Exclusive
Kendra Wilkinson's Family Feud: Mom Is 'Heartbroken' She Rarely Sees Her Grandson, Rift Has Been Going On For Years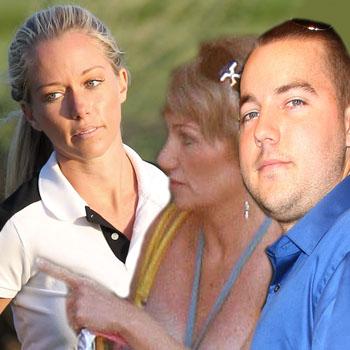 Kendra Wilkinson is in the middle of a hot family mess.
Not only did she fail to inform her mother Patti and brother Colin that she is pregnant with her second child — they learned the news through fans — and her mother even claimed that Wilkinson said she hopes she dies.
And RadarOnline.com has exclusively learned this family has been having problems for a while now.
"This has honestly been a long time coming," an insider told Radar.
Article continues below advertisement
"Kendra is not the family girl that she portrays on her show. If a family situation will help her with ratings, she's for it. And if not, her family consists of her very close friends."
According to the insider, Wilkinson has been treating her family poorly for years.
"Colin has been experiencing this for several years now and they both bit their tongues, said nothing and it's very unfortunate," the source said.
"To treat your family like this, it's heartbreaking. They are both devastated and rightfully so. But this has been going on for years."
The fight hit an all-time high when Wilkinson's mother called to find out if the pregnancy reports were true.
"Basically, what had happened was she had called her to confront her/congratulate her and ask, 'Why did I have to find out through fans?'" the source explained.
Article continues below advertisement
"And any time you come at Kendra with anything other than what she wants to hear, you're going to get your head ripped off."
Wilkinson's fame that her attitude towards her family has changed, the source claims.
"Kendra is very Hollywood now," the source told Radar.
"She takes advantage of her family and the relationship for several years has been strained and it's no fault of the family. It's all Kendra's doing."
"Her career is the most important thing to her," the source continued. "Anybody can see on Twitter that she is more concerned with fantasy football than she was about the argument with her mother."
On top of it all, Wilkinson doesn't let her nearly 4-year-old son Hank Baskett Jr. see his grandmother Patti very often.
"It's just very unfortunate that Patti doesn't see the grandchild," the source said.
Article continues below advertisement
"They have a nanny that's hired and there's a grandmother that would be more than willing to watch the child."
And the source believes it's because Wilkinson purposely doesn't make time to take her son to see his grandmother.
"She's just so involved with her appearances that the visitations are few and far between," the source said.
"And she's more focused on going out with her friends and living the party girl lifestyle than being a mom. It's almost like she's too busy for her own child."
Unfortunately, Wilkinson "sees nothing wrong" with how she treats her family, the source added.
"She's the type if she feels like somebody's getting too close, she will lash out and push them away and she sees nothing wrong with what was done."
In the end, it's Kendra's mother that has been left destroyed by the relationship.
"She's heartbroken," the source concluded. "Patti has two children and one daughter is not that far away from her, but yet it's like she lives across the world."