Kendra Wilkinson's Brother SLAMS Her After Pregnancy Reveal, Says She's 'Inconsiderate Psychotic'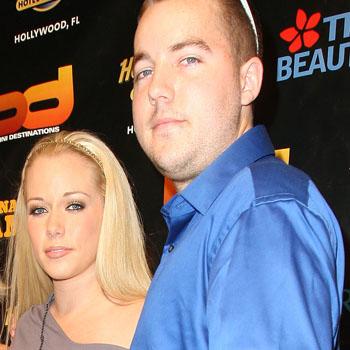 Vicious family feud alert! Kendra Wilkinson is expecting her second child but things are far from happy in her family because her younger brother has lashed out at her, saying she's an "inconsiderate psychotic b*tch." and RadarOnline.com has learned that he believes his sister fought with their mother and told her to "go die."
Hugh Hefner's ex-girlfriend often had her brother, Colin Wilkinson, appear with her on The Girls Next Door and he even walked her down the aisle at her wedding to Hank Baskett, but he is clearly furious with her and says their relationship is over.
Article continues below advertisement
"Every1 plz never ask me about my sister again. She is no longer a part of my life. She's an inconsiderate psychotic b*tch. I'm done," the 25-year-old Tweeted about his older sister.
Kendra has had her family drama filmed both on her reality show with Hef and the other Playboy girls and her own spinoffs, showcasing fights with her mom as they struggled to deal with the choices she makes and according to Colin she recently threatened their mom, Patricia Wilkinson.
Colin ranted about his sister on Facebook, writing "That's f**king it. I've f**king had it. Everyone wanna know the truth. My sister can go straight to f**king hell. She's an inconsiderate b*tch. How dare her tell my mom to go die."
Kendra's younger brother revealed that they are not on speaking terms and they have no relationship right now.
"My sister is the most selfish human being on the planet. She is no longer apart of my life. She has never once helped my family. So plz stop asking me about her. As I have nothing to say. You want the real me. U fruckin got it."
As RadarOnline.com previously reported, her mother filed for bankruptcy in 2010 despite her daughter's lucrative career.
Do you think Kendra should apologize to Colin and their mom? Tell us in comments.