Exclusive
Champagne, Tequila & Twerking: Kendra Wilkinson Parties Until 3:30 AM Without Hubby Hank Baskett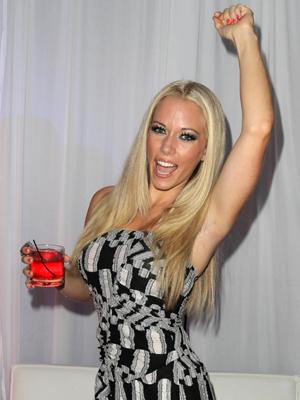 Is there trouble in Playmate Paradise?
Kendra Wilkinson looked like a single woman as she celebrated her 28th birthday in Miami this week with a posse of female friends that partied until 3:30 a.m. -- and her husband, Hank Baskett was nowhere to be seen, RadarOnline.com is exclusively reporting.
After dinner at Katsuya on Wednesday night, Kendra and frequent party pals Jessica Hall and Jenny McCarthy's sister JoJo, rolled up to Mokai nightclub at 12:30 a.m.
Article continues below advertisement
Seated at a table stocked with a magnum of Moet & Chandon Champagne, two bottles of tequila and vodka, Kendra was spotted getting down, twerking on a banquette. (She joked earlier in the week on Twitter that she'd need a stretch session before attempting her X-rated moves.)
"Kendra was definitely having a great time hanging out and dancing," Jonathan Estallo, a promoter who hung out at Kendra's table, tells RadarOnline.com in an exclusive interview. And she didn't call it a night until 3:30 a.m.
"I thought she was going to stay even later," Estallo says. "She looked like she was really enjoying herself."
And she never mentioned her husband, or her son, Hank Jr., 3.
Meanwhile, Hank was playing video games with his friends at the E3 video game convention in Los Angeles.
Now, it's on to Vegas for Kendra, where she'll party it up again at Chateau Nightclub on Saturday. Again, Hank is not expected to attend.
The couple have not been photographed together since May 17.