Exclusive
Kendra Wilkinson Drunk & Wasted In Hollywood: 'She Was Swinging From The Pole'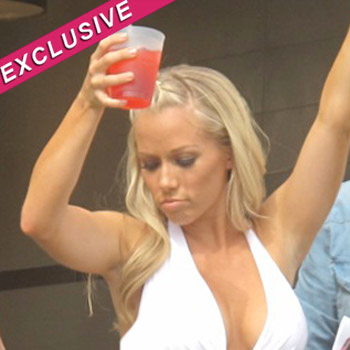 By Amber Goodhand - Radar News Editor
Kendra Wilkinson partied hard on Monday night in Hollywood and RadarOnline.com has all the exclusive details about her wild night.
The 27-year-old took a night away from her hubby Hank Baskett and her two-and-a-half-year-old son Hank Baskett IV to party with her girlfriends and an eyewitness said it looked like Kendra was having the time of her life, throwing back shots of tequila.
Article continues below advertisement
"Kendra and a bunch of girls were partying hard on Monday night at AV Nightclub in Hollywood," the eyewitness told RadarOnline.com.
"They were drinking excessively and Kendra even got up on the pole at one point! For just one night, it was like she forgot she was a wife and a mother."
RadarOnline.com has learned Kendra was at the hot spot with Playmate Jessica Hall, her sister Stacie Hall, Jenny McCarthy's sister JoJo and former Playmate Jayde Nicole — sipping on Dom Perignon Rose, Don Julio 1942 and Patron.
Pregnancy rumors swirled around Kendra earlier this summer, but according to the eyewitness there's no way she's expecting another child any time soon.
"There's no way Kendra is pregnant right now, not the way she was partying last night," the source said.
"I think I might get drunk tonight. Why not? @iamJessicaHall what u think? Lol," Kendra tweeted Monday evening to Jessica, predicting a wild night.
Article continues below advertisement
"1 shot down but it as actually 2 in 1. If only you knew what we were talking about. You would prob throw up. Hahhaabbana" she tweeted around 11:30 p.m.
In fact, by midnight the former Playboy model and Hugh Hefner girlfriend admitted to getting 'f**ked up' tweeting, "At the club, clubbin. Yeah, I'm cool like that. Getting f**ked up."
"Ok ummm I got on the pole so I know I faded."
Kendra paid the price for her wild night, tweeting about how hungover she was on Tuesday.
Workout Secrets Of The Stars! How Kendra Wilkinson Got Her Rock-Hard Body Back