Exclusive
The PROOF Hank Baskett Strayed? Transsexual At Center Of Cheating Scandal Passed A Polygraph Test About Their Relationship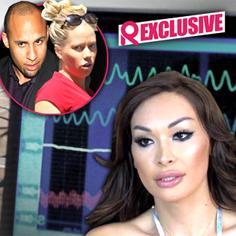 It's the naked truth. RadarOnline.com has exclusively learned that the transsexual woman who claims she had a torrid sex romp with Hank Baskett passed a lie detector test before she came forward with her story.
Ava Sabrina London, the video model who was born a man, voluntarily underwent a polygraph conducted by L.A.-based polygrapher Joseph Paolella on June 18.
After careful review, Paolella -- a former Secret Service agent who has guarded four presidents -- concluded there was "no indication of deception during the polygraph examination."
Article continues below advertisement
The purpose of the test was to determine if London and Kendra Wilkinson's husband engaged in mutual masturbation at her Sherman Oaks, Calif. condominium on April 21, just weeks before his daughter with Wilkinson, Alijah, was born.
According to the examination report, London participated in a pre-test interview stating that Baskett, who was kicked out of his marital home by his former Playboy Playmate wife last Friday, called her to make an appointment to have a sexual encounter, knowing that she was a transsexual.
London also said the former NFL star paid her roughly $400 at the time after their rendezvous and he made another appointment with her to meet. She also revealed the reality star husband agreed to pay her $2,000 to deny she ever met with him and he further offered her $5,000 to not talk publicly about their sexual encounter.
When asked if she masturbated Baskett at her apartment during their first intimate introduction, London answered "yes."
Article continues below advertisement
She also said "yes" when asked if the 31-year-old paid her up to $400 for the first sexual encounter.
London continued by ansering "yes" when asked if Wilkinson's husband of five years paid her an additional $2,000 on a second visit to her apartment to deny she had ever met him and if he also offered to pay her $5,000 to not talk publicly about their encounters.
Each time, Paolella found "no indication of deception."
Article continues below advertisement
Article continues below advertisement