Rocky Reunion: Kendra Wilkinson and Husband Hank Baskett Attend Children's Party Together The Day After He Storms Out Of Marital Home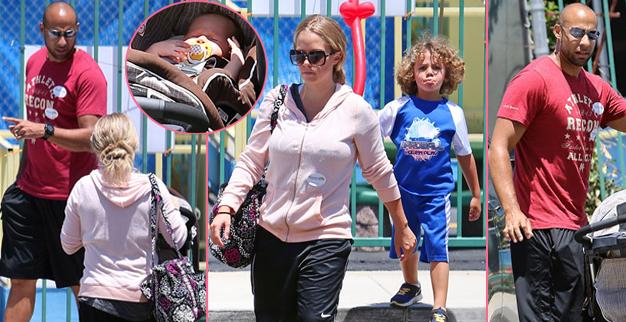 It looks like Hank's back home- but is he back in Kendra's good graces?
The day after Hank Baskett left of the Calabasas, Calif., mansion he shares with wife Kendra Wilkinson and moved into a nearby motel, the family, including son Hank Jr., 4, and daughter Alijah, 1 month, attended a child's birthday party on Saturday afternoon.
The former Playboy model, 29, looked stoic as she left the family's car with a sleeping baby Alijah and headed into the Calabasas event.
Article continues below advertisement
With a balloon in hand, Hank Jr. didn't seem to be any the wiser that just last night, his dad left the family home for several hours and chatted with two friends in a sleazy motel.
"Hank appeared disoriented and downtrodden," a reporter for The National ENQUIRER exclusively told RadarOnline.com yesterday of the former NFL player's strange evening outing. "At one point, he kicked the ground."
For more on Wilkinson and Baskett's marital crisis, keep checking Radar.
Article continues below advertisement