Exclusive
The Photo Proof: Kendra's Husband Hank Baskett Checks Into Motel After Abruptly Leaving Marital Home — One Month After Birth Of Their Second Child!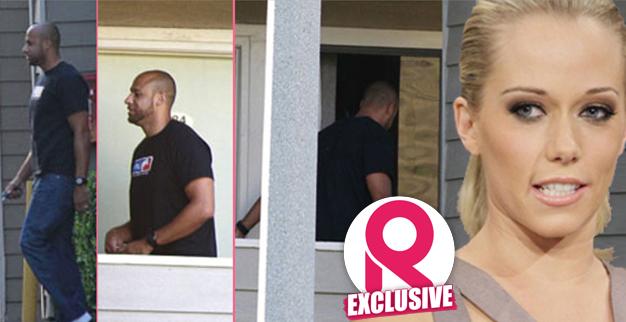 Article continues below advertisement
After speaking with a male friend and an older woman in his room, Baskett stopped back home during the night, a source tells Radar— though it's unknown if he remained at their gated compound.
"He was having a private conversation with the man and woman at the motel," adds the insider.
Wilkinson, 29, welcomed the pair's first daughter, Alijah Mary, last month. The couple, coming up on their fifth wedding anniversary this week, also have an adorable 4-year-old son, Hank Jr.
As Radar reported, one of The National ENQUIRER's reporters eye-witnessed Baskett speeding away from the home he shares with ex-Playboy Playmate Wilkinson in his white Jeep before landing at a local motel.
"Hank was wearing a royal blue NBA shirt and long khaki shorts. He got out of the Jeep with a woman who appeared to possibly be one of the couples' baby nurses because she was wearing a medical type uniform," the reporter noted.
Article continues below advertisement
Article continues below advertisement