Kendra Wilkinson's Glamorous Baby Nursery – No Pink Allowed!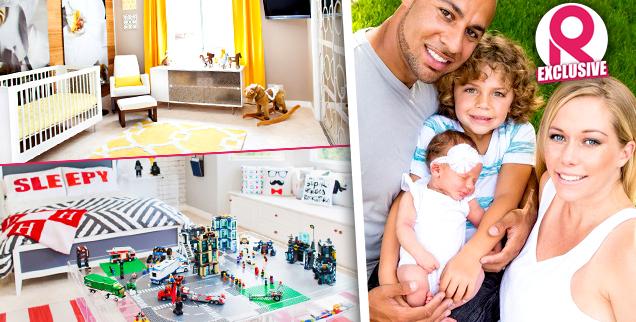 No pink for a baby girl!
Kendra Wilkinson is a proud new mama of her daughter Alijah Baskett but the Playboy beauty had one strict rule for her nursery — no pink.
In an exclusive interview with Vanessa Antonelli, celebrity nursery designer, RadarOnline.com learned how she created the warm yellow jungle theme room with the expectant mom and how she even surprised Kendra with a new room for little Hank Jr.
Article continues below advertisement
"This nursery is my favorite one that I've ever done," Antonelli told Radar.
"Kendra and Hank Baskett really weren't afraid to try anything. They are both so cool and laid back so it was fun to work with them."
Turning the room into a calm haven for their new arrival, Antonelli said the parents were in sync on the planning.
"Kendra is really sporty and fun and so is Hank, and they wanted something that is not super traditional."
But there was one very important rule imposed by mom.
"Kendra wanted to keep pink out of the room. But that wasn't hard to find another color scheme that worked."
The room design occurred after one meeting with Kendra and Hank and then 10 weeks later the installation took place, with many designer items alongside affordable pieces too.
"The crib was probably the most expensive piece in the room," Antonelli said about the Spot On Square custom piece. The room also includes a chandelier by David Trubridge, a chair, ottoman and side table by Monte, murals on the wall by Murals Your Way, wood paneling by Stikwood and closet door panels by My Overlays.
While Kendra was part of the planning for the nursery, Hank was able to work with Antonelli on a surprise room for little Hank Jr.
"Kendra was overwhelmed emotionally," Antonelli told Radar about her reaction to the custom designed rooms.
"She was 39 weeks pregnant when she saw everything, the nursery and Hank Jr.'s room and she was so excited she couldn't believe her eyes."