North West's Luxe Life: How The 'Million Dollar Baby' Of Kim Kardashian & Kanye West Is Living Outrageously Large — After Just 59 Days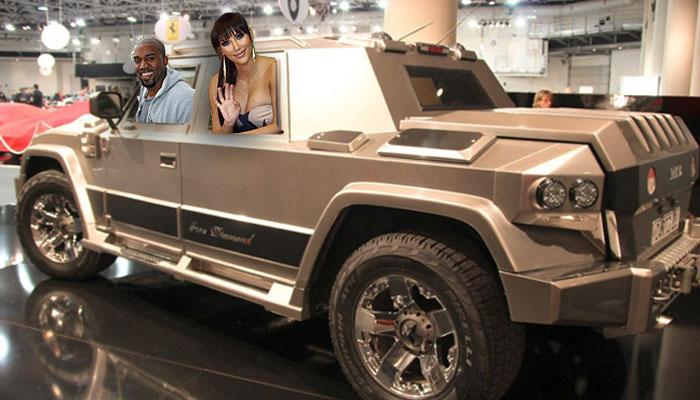 Kanye West and Kim Kardashian are sparing no expense to ensure daughter North West has a charmed life and every opulent opportunity at the tips of her tiny little fingers.
Not only did Kim pimp out "Nori's" lavish nursery in their Bel Air mansion with a top-of-the line crib, designer furnishings, hand-made teddy bears from Paris, expensive art works on the walls, state-of-the-art sound system and custom-made baby monitors, RadarOnline.com has learned that Kanye, 36, is now beefing up security to protect his family on the road.
Article continues below advertisement
The Good Life singer reportedly just dropped a whopping $1.2 million each for two super-sized SUV's, the Prombron Iron Diamond -- a high-tech, high-performance armored vehicles to protect Kim and their baby girl.
The world's most advanced anti-kidnap automobiles are manufactured by Dartz Motorz and built to withstand attacks from landmines and rocket-propelled grenades.
Kanye ordered the massive bullet and bomb-proof his and hers cars so they could travel safely around Los Angeles with their precious two-month-old cargo.
Even President Barack Obama is worried about the new parent's excessive lifestyle. He recently made a disparaging remark when he critiqued the youth of today for glamorizing Kim and Kanye's over-the-top existence.
"Kids weren't monitoring every day what Kim Kardashian was wearing," President Obama said. "Or where Kanye West was going on vacation, and thinking that somehow that was the mark of success."
Article continues below advertisement
32-year-old Kim, who was still pregnant when she questioned overindulging her child, "Like, how much do you give them, you know?" has clearly gone too far.
While the Keeping Up with the Kardashians star used interior designer Jeff Andrews to create the luxurious nursery, Kim and Kanye made sure North has all the baby swag imaginable.
Some of the little one's stylish gear includes closets full of designer baby clothes including Christina Dior baby booties, an $11,800 Swarovski crystal-studded high chair, a $1,200 car seat, a $4,000 on a Lucite Vetro crib from NurseryWorks –the same one that Beyoncé and Jay-Z bought for Blue Ivy and a $1,170 Orbit stroller.
President Obama shouldn't be too worried – Princess North West is living in a fairytale kingdom that no one can possibly attain!