Exclusive
Kanye Is In Kontrol! Kim Kardashian's Life 'Dictated By' Baby Daddy West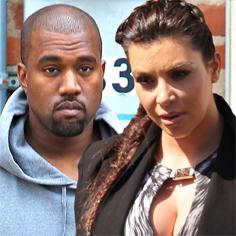 Kim Kardashian has been deep in hiding since giving birth to her daughter North West but RadarOnline.com has exclusively learned that people around her feel like that's because she is being controlled by Kanye West.
The 32-year-old new mom is reveling in the joy of motherhood with her baby daddy, but a source close to Kim says Kanye is in charge now.
"Kanye wants to make sure that every single aspect of Kim's life is now handled the way he wants it to be," the source said.
Article continues below advertisement
"He is controlling everything from her wardrobe to business choices and it's definitely a change for Kim, who has always relied on her mother to take care of her. A lot of what Kim does now is dictated by Kanye."
Kim and Kanye have been living in Kris Jenner's house since the birth of their daughter but as Kim is adjusting to her new role as "mommy" she is struggling with managing the rest of her life.
With the NY Post report that Kim has taken a hiatus from her long-time publicist, the source said this isn't a surprise.
"This is just another way Kanye is asserting his control over Kim and trying to make sure she follows his lead in everything instead of what her own mother has always done, which is completely expose every aspect of her life to the public for money.
"Kanye is different. He isn't a reality star and he doesn't want Kim to be so public with their personal lives anymore."