Exclusive
Kendra Wilkinson's Mom Tells All: Fame Has Destroyed My Daughter — 'Hollywood Has Crept In' & Changed Her 'Not For The Better'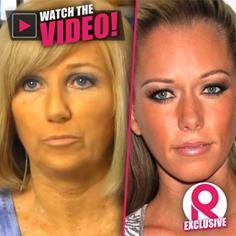 Article continues below advertisement
radar_embed service=5min.com src="http://pshared.5min.com/Scripts/PlayerSeed.js?sid=281&width=560&height=345&playList=518256677"
"When Kendra was on The Girls Next Door I think that she was down to earth, she was fun, it was all new to her and exciting. That was Kendra, that definitely was Kendra.
"As years go by Hollywood has crept in and I think it has changed her and not for the better and I never thought it would happen," Patti revealed about her 28-year-old daughter.
Even though she just gave birth to her second child, daughter Alijah Mary Basket, Kendra and her mother haven't spoken since October 2013, and Patti said she doubts her daughter is aware of how fame has altered her life.
"Maybe she doesn't even realize it. Maybe she doesn't even realize that this is happening to her but I do believe it has. I've never really said anything about Hollywood creeping in and taking over her life to Kendra because I've always kept my mouth shut. I've always told her my opinion, but I've never told her anything like that for fear that I would be completely cut out of her life and little Hank's life and that would be the end, but here it has happened."
Article continues below advertisement
Patti explained to Radar why she believes her daughter's ego is out of control.
"From my observation Kendra has surrounded herself with yes people. Everybody in her life yeses her, including Hank.
"I mean everybody, her manager, everybody. I don't think that's healthy, I really don't. I'm the only one really that would say 'No I don't think you should do that' or 'I think that wasn't correct.' Not that I want her to listen to me and do what I say. But it gives her another perspective. That's in everyday life. You talk to people you hear their opinon. You take it in, you take it or leave it, whatever That's natural."
However, Patti said Kendra couldn't take criticism.
"Well, you don't do that with Kendra. Either you yes her, you agree with her or you're cut."
Devastated that she's been shut out of her daughter's life, Patti told Radar what she believes is Kendra's motivation for her arrogance.
"I think as an adult I think this is more 'I'm a princess, I'm up on this pedestal. You're down there and that's the way I'm going to keep it.'
Article continues below advertisement
Patti told Radar her heartbreak from not seeing her daughter and her two grandchildren has much to do with her strained relationship with Hank Baskett, but she complimented him as well.
"Hank is a great dad, he really is, he's a wonderful dad however, he never really embraced us as a family. My mom, myself and my son," Patti revealed.
"He always wanted his family included which he still does. I mean his mom, his dad, his brother go to all of the functions, including the birth of the baby and we're kind of like a second like a non-factor in their lives. So It's kind of upsetting."
Patti said that she is afraid to tell her daughter how she really feels about her son-in-law because "You don't go against Kendra, you don't tell her that she's doing something wrong or that she's doing something that she shouldn't. You just can't do that."
Yet she still told Radar that all of the actions are not making her angry.
"I don't know that Kendra knows that I feel that Hank puts us on the back burner as a family. I've never really exressed it to her. I don't think she realizes it for some reason. That's what hurts me I think. Because I would think 'Hey they're my family. I want them here too I don't care what you say. I want my family there too.' And that doesn't happen and it hasn't for a long time."