ON YOUR RADAR 2012: Gone But Not Forgotten! Celebrities We Tragically Lost This Year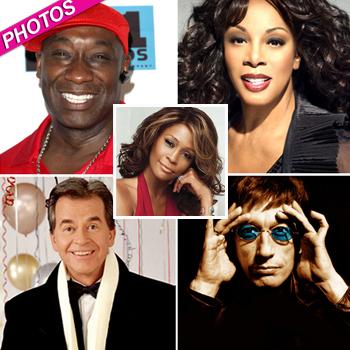 The circle of life continued to swirl in 2012, and the losses included a number of icons in the musical field, including a once-in-a-generation singer, a diva hailed as the queen of her genre and a promoter who knew how to put it all together.
As part of our annual On Your RadarOnline.com feature series, RadarOnline.com has photos and details on the celebrities we lost over the past year -- so sit back, remember and say goodbye to the stars who are now shining even brighter above us in the sky.
Article continues below advertisement
No death rocked the entertainment world harder than that of Whitney Houston, the singer whose amazing talents were wiped out by her ongoing demons. The 48-year-old was discovered unresponsive in the bath tub of her Beverly Hills Hotel room on February 11, 2012. Houston's death was ruled accidental and was caused by "drowning due to effects of atherosclerotic heart disease and cocaine use." In addition to her musical legacy, Whitney left behind a daughter, Bobbi Kristina Brown.
Dick Clark revolutionized the music industry, carving out a timeless template up and coming industry bigwigs such as Ryan Seacrest can only hope to emulate. The American Bandstand host died of a heart attack on April 18, 2012, at age 82. After Dick's death, Seacrest paid tribute to the showbiz legend, saying that American Idol "would not exist" without the innovations of Clark, who Seacrest called the man who "taught me how to do television."
Article continues below advertisement
Elsewhere, Don Cornelius was a similar promotional genius to Clark, Donna Summer was the world's disco diva, and Robin Gibb completed a trio whose voices were synonymous with a generation.
They are among the people we lost in 2012 … Here is the full run down.
Don Cornelius
Soul Train's legendary creator and host Don Cornelius killed himself via a gunshot to the head February 1, 2012, at his home in Sherman Oaks, California. The show, which premiered in 1971 and stayed on the air until 2006, helped buoy the careers of R&B icons like Barry White, Smokey Robinson, James Brown and Aretha Franklin, all of whom appeared on Soul Train during their primes.
Robin Gibb
Robin, a member of the Bee Gees with his twin Maurice and older brother Barry, lost his battle with colon cancer May 20, 2012, at age 62. Gibb and his brothers sold more than 200 million albums, buoyed by some of the biggest hits of the 1970s, including Stayin' Alive, Jive Talkin,' How Deep is Your Love?, Night Fever and More Than a Woman. His twin Maurice died in January 2003.
Donna Summer
Article continues below advertisement
Music legend Donna Summer died age 63 in Florida on May 17, 2012, after a battle with cancer. The five-time Grammy winner was renown for her hits Last Dance, Hot Stuff, Love to Love You Baby and Bad Girls. At one time, Summer had four singles hit the top spot on the Billboard charts in just 13 months.
Nick and Aaron Carter's sister Leslie died age 25 on January 31, 2012, in what officials dubbed a drug overdose in her New York home. Leslie, a singer who appeared on the family's E!'s reality show House of Carters, married husband Mike in 2008, and gave birth to the pair's only child, daughter Alyssa Jane Ashton, in April 2011.
Article continues below advertisement
The famed British filmmaker died in August 2012 at age 68 after leaping off the Vincent Thomas Bridge in Los Angeles County, which officials estimated as a 18-story jump. The younger brother of Ridley Scott, Tony had directed a multitude of box office blockbusters including Beverly Hills Cop II, The Hunger, Crimson Tide, True Romance, The Fan, Enemy of the State and Days of Thunder.
Sage Stallone
Sly Stallone's son Sage, best known for roles alongside his father in 1990's Rocky V and 1996's Daylight, died of a heart attack, age 36, in his L.A. home July 13, 2012. A grieving Sylvester said of his beloved son: "I think about his memory ... he was a lovely boy and I'll always treasure that."
Beloved character actor Michael Clarke Duncan died age 54 on September 3, 2012, at Cedars-Sinai Medical Center in Los Angeles. The Green Mile star had been hospitalized for two months after suffering a heart attack. At the time of his death, the actor was engaged to reality star Omarosa Manigault. The Celebrity Apprentice star was left heartbroken by her fiance's premature demise, announcing in a statement that she had lost "the love of my life."