Donna Summer Dead At 63, Didn't Reveal How Sick She Was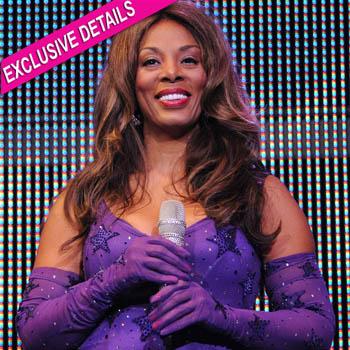 By Debbie Emery - RadarOnline.com Reporter
Music legend Donna Summer kept the extent of her illness secret to some of her closest friends, RadarOnline.com has exclusively learned.
The five-time Grammy winner, 63, was suffering from lung cancer and passed away at her home in Sarasota County, Florida on Wednesday morning.
The family released a statement to RadarOnline.com Thursday confirming the disco diva was "surrounded by her family at the time" she died.
Article continues below advertisement
"Early this morning, we lost Donna Summer Sudano, a woman of many gifts, the greatest being her faith. While we grieve her passing, we are at peace celebrating her extraordinary life and her continued legacy. Words truly can't express how much we appreciate your prayers and love for our family at this sensitive time. The Sudano Family."
The Last Dance singer had been battling cancer, but she kept the extent of her illness quiet, her longtime attorney exclusively told RadarOnline.com.
"Donna was a very private person, and I suspected there was an issue because she had turned down very lucrative work over the past year, but she never talked to me about being sick and it was never confirmed," said Gerry Rosenblatt.
"She turned down all the interviews and all scheduled work. You knew that something was up and I suspected a serious illness."
As the music world mourns the loss of another legend, Rosenblatt told RadarOnline.com that he was still in shock over the devastating news.
Article continues below advertisement
"I am very shaken up, I have been her attorney since 1980, and I know her whole family. This is not a good day. "
Summer's representative told RadarOnline.com that they have been bombarded by calls from friends and fans, and in lieu of flowers the family requested that donations be made in Donna's honor to the Salvation Army.
Originally from Boston, Massachusetts, Summer is survived by husband Bruce Sudano, their daughters Brooklyn and Amanda, and her daughter Mimi from her previous marriage.
Among the biggest hits in her catalog include: She Works Hard for the Money, Hot Stuff, Love to Love You Baby and Bad Girls. The Queen of Disco once had four singles hit the top spot on the Billboard charts in just 13 months.
According to Entertainment Tonight, Summer will be laid to rest during a funeral ceremony on Monday, May 21, in Nashville, Tennessee.
RELATED STORIES:
Dying Cancer-Stricken Boy's Brave Goodbye Message Goes Viral