Make His Dream Come True! Nine-Year-Old Cancer Sufferer's Dying Wish Is To Trend On Twitter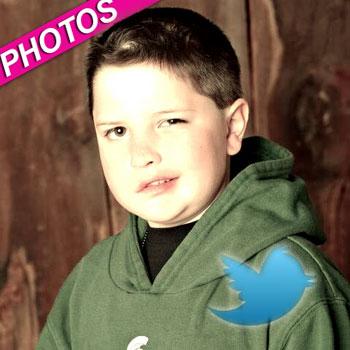 Article continues below advertisement
The brave youngster recently made the decision to suspend treatment for the cancerous tumors that have ravaged his brain since 2007, and now with weeks to go before his 10th birthday, Ryan's dying wish is simply to trend on Twitter.
RadarOnline.com will be tweeting Ryan's wish for the next 24 hours and encourage all readers to do the same, and to pass on the message, in addition, please follow Ryan on Twitter.
Tragically, Ryan might not even survive the 26 days until his milestone birthday as he has almost died twice in the past week, revealed his mother, Kimberly Morris-Karp, and doctors have put his chance of recovery at zero.
Although no one knows exactly how long he has left, one thing that is for sure is Ryan is not going to go quietly.
Local youngsters and fellow students at Clarkston's North Sashabaw Elementary School have taken to their Twitter accounts to get Ryan's name trending — using the hashtags #RyanKennedy or #staystrongRyanKenned – and the grass roots campaign has caught the attention of countless celebrities.
Article continues below advertisement
"STAY STRONG Ryan Kennedy!! <333 RT If you have a heart," Disney star Demi Lovato tweeted.
While Britney Spears is encouraging all her followers to jump on board. "There's this sweet boy who is battling cancer, and his biggest wish is to trend on Twitter. Let's make it happen! #ryankennedy," she wrote on Sunday, and followed it up by, "Awww everything y'all are saying is so sweet! Keep on tweeting #ryankennedy - I'm gonna follow a few fans who tweet it :)"
Former American Idol contestant Adam Lambert wrote, "Ryan Kennedy--4th grade boy with cancer who wants his name trends - Go Glamberts!! @adamlambert :).
Along with the slew of Hollywood stars to tweet his story, the young sports fan is most excited about messages from players of his favorite sports teams, including those from Detroit Lions quarterback Matthew Stafford.
Ryan's family is blown away by the support, and have jumped into the Twitter campaign whole-heartedly. "I showed him the Britney Spears tweet, and he did start crying, and he said, 'You know, Mommy, this really touches my heart, that so many people are out there Tweeting, and caring about me,' " said Morris-Karp, describing the joy it has brought to Ryan.
Article continues below advertisement
"It's amazing. It's something that doesn't take a whole lot of time, but it's a huge gesture that means a whole lot to all of us," revealed his uncle, Kevin Morris.
"It's good to see because — people don't take the time to do the right thing, you don't think very often. To see that there are actually good people out there that care, that means a lot."
May is National Brain Cancer Month, and while it is too late to save her son, Morris-Karp hopes that the Twitter blast will bring some much needed attention to the deadly disease.