Giuliana & Bill Rancic Hold Heads High On Tough Day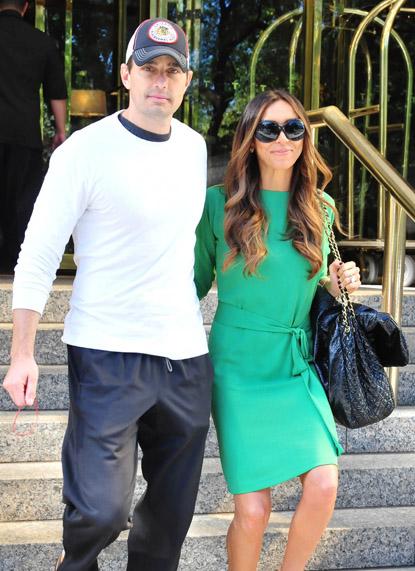 TV personality Giuliana Rancic, who announced she's battling breast cancer on Monday, put on a brave face as she walked in New York City with her husband Bill.
Rancic, who wore an elegant green dress, tweeted inspirational messages such as, "To whom much is given, of him shall much be required. -Luke 12:48 Send me ways u are giving back today and I will share them here..."
The E! Style Network host, 37, said doctors discovered a tumor during while giving her a mammogram during the in-vitro fertilization process she's been undergoing in hopes of becoming pregnant. Rancic said doctors gave her a good prognosis on her chances of beating the deadly disease; She'll undergo surgery this week, to be followed with a six-week radiation program.
Article continues below advertisement
Her husband, The Apprentice winner Bill, tweeted: "Thank you for all ur love & support today. G is reading all your messages. She will win this fight, I PROMISE, & be back better than ever!"
On a video aired on E! Monday, Rancic opened up about her decision to let the public know she's battling the deadly disease.
"This morning was tough. Actually all weekend was really tough," Giuliana told E! News. "I was going back and forth; should I do this, should I not do this? It's just so personal and I was like a nervous wreck."
She continued, "I have so many young female viewers who watch me that I just want to help them and I have an amazing platform to really help people, so that's why it was really important for me to share this story.
"You have to take awareness and turn it into action and that action for women is just make that appointment with your doctor, make sure you're going to your yearly appointment, figure out how to give yourself a self-exam. That sort of thing, that's the action."