Exclusive
Mexican-American Singer Jenni Rivera Tragically Killed In Plane Crash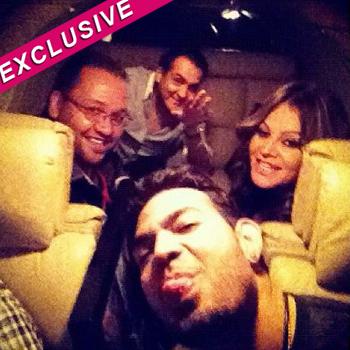 By Amber Goodhand - RadarOnline.com News Editor
Superstar Mexican-American singer Jenni Rivera was tragically killed in a plane crash on Sunday RadarOnline.com has exclusively confirmed, and we have obtained possibly the last known photo taken of the beloved singer.
Jenni, two pilots and four other passengers were reported missing when the plane lost contact with the air traffic controllers about 60 miles after take off from Monterrey, Mexico.
Article continues below advertisement
Jenni's makeup artist Jacob Yebale was one of the passengers on the plane and took the photo before take off. A friend of Jacob's shared the photo with RadarOnline.com, Jenni is in the back and Jacob is on the right in the front.
The friend told RadarOnline.com they just received a phone call confirming that the plane went down and everyone aboard
The Mexican-American singer starred on the reality show I Love Jenni on Telemundo mun2 network last year.
Rivera, nicknamed "Diva de la Banda," was born in Long Beach, California. Her impressive career accolades include more than 15 million records sold, three Latin Grammy nominations, and a pair of Billboard Mexican Music Awards (female artist of the year, banda album of the year) more recently.
The thrice-married 43-year-old, who recently divorced former Los Angeles Dodgers pitcher Esteban Loaiza, is survived by five kids and two grandkids.
Article continues below advertisement
Several celebrities have released statements or Tweeted about their heartbreak at the news of Rivera's death:
Jennifer Lopez: "So sad!! Praying for Jenni Rivera's children and family and the passengers families. Que dios los bendigan!! Descansen en paz..."
Eva Longoria: "My heart breaks for the loss of Jenni Rivera & everyone on the plane. My prayers go out to her family. We lost a legend today."
Mario Lopez: "Spent some time with Jenni Rivera recently. What an amazing lady... Cool, smart, funny & talented. Such a travesty... God Bless her family"
Gloria Estefan: "Our deepest sympathy to the family & fans of @jennirivera & those that accompanied her on what was to be her last voyage. Rest in peace…"
Ricky Martin: "Esto es triste. Un poco en shock. Mucha paz para su familia."
Pitbull: "I highly respected #JenniRivera 4 being a gr8 performer but more then tht being real & gr8 example 4 us all que dios la bendiga &may she RIP"
Russell Simmons: "RIP Jenni Rivera..."
Article continues below advertisement