ON YOUR RADAR: Celebrities We Lost In 2011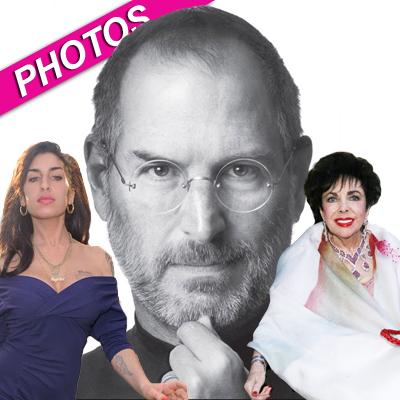 As we prepare to ring in a new year, RadarOnline.com takes a look back at the celebrities we lost in 2011 who made their memorable mark on the world.
Apple founder Steve Jobs died at 56 on October 5 after a long battle with pancreatic cancer. The tech guru leaves a vast legacy in his industry over the better part of four decades, listed as the inventor of household items such as iPod, iPhone and iPad, among others. He was also the driving force behind companies like Pixar and Atari.
Article continues below advertisement
Legendary newsman Andy Rooney died November 4, just weeks after his 1097th and final weekly segment on the CBS stalwart 60 Minutes, capping off a 33-year run.
Russell Armstrong, the husband of Real Housewives of Beverly Hills beauty Taylor Armstrong, was found hanged August 15 in the bedroom of a friend's home in Los Angeles. He was 47. Following his death, Taylor's allegations of abuse against her late husband surfaced in interviews and on the Bravo reality show.
Rapper Heavy D, known Dwight Arrington Myers, died age 44 on November 8 in Beverly Hills, due to complications from pneumonia, according to his family. His biggest hit was the early-90's dance anthem "Now That We've Found Love."
Emmy Award-winning actor Harry Morgan, who gained fame in the role of Colonel Potter on the iconic series M*A*S*H, died at 96 on December 7 of pneumonia at his Los Angeles home.
Article continues below advertisement
Comic Patrice O'Neal, who appeared on The Comedy Central Roast of Charlie Sheen in September, suffered a stroke in October and passed away November 29. The funnyman was a regular on the New York comedy circuit and a frequent guest on the Opie & Anthony show.
Ken Russell, the Oscar-nominated British director whose credits include 1969's Women In Love, The Who's 1975 musical Tommy and 1980's Altered States died November 27 after suffering from multiple strokes. He was 84.
Cinematic legend Elizabeth Taylor died March 23 of congestive heart failure at Cedars-Sinai Medical Center in Los Angeles, after being hospitalized for six weeks. The two-time Academy Award-winner was 79.
Jackass star Ryan Dunn died at 34 in a June 20 drunken driving crash in West Goshen Township, Pennsylvania. Authorities said the 2007 Porsche Dunn was driving was engulfed in flames when they arrived on the scene, as it had careened off the road and into the woods. His passenger Zachary Hartwell, 30, also died.
Article continues below advertisement
Retro soul singer Amy Winehouse, who had a worldwide smash with her 2007 hit "Rehab," was found dead of alcohol poisoning in her London apartment June 23. Her death at the young age of 27 spurred further speculation about the "27 club" a group of famous musicians (Jim Morrison, Janice Joplin, Kurt Cobain, Jimi Hendrix & others) who died at that age.
Oscar-nominated actor Pete Postlethwaite died at 64 in his native England on January 2, following a long battle with cancer. Films he appeared in included In The Name Of The Father, Inception, The Usual Suspects, and Romeo + Juliet.
Betty Ford, the former First Lady who bravely went public with her own drug and alcohol addictions to help others with the famous clinic in her name, died July 8 at the age of 93. She was married to late President Gerald Ford for 58 years.
The embattled star of Taxi and Grease, Jeff Conaway died May 27 from multiple causes, some attributable to his well-documented battles with drugs.
The Godfather of Rap, Gil Scott-Heron, was 62 when he died May 27 at St Luke's Hospital in New York. He was most famous for the spoken-word piece "The Revolution Will Not Be Televised."
A preeminent sex symbol of the 1940s, The Outlaw star Jane Russell died February 28, 2011 of a respiratory-related illness in California.
Legendary fitness guru Jack LaLanne died Sunday at 96 at his Morro Bay, California home from respiratory failure connected to pneumonia. LaLanne hosted a TV workout show for more than 30 years and opened his own chain of spas.