Fitness Guru Jack LaLanne Dies At 96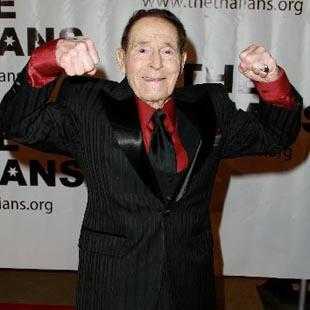 Legendary fitness guru Jack LaLanne died Sunday at 96 at his Morro Bay, California home from respiratory failure connected to pneumonia, RadarOnline.com has learned.
LaLanne was one of the forefathers of the huge fitness movement, having hosted a TV workout show for more than 30 years. He'd also opened his own chain of spas, marketed workout equipment and continued preaching his passion of fitness into his golden years, joking in 2006: "I can't afford to die -- it would wreck my image."
Article continues below advertisement
Across Hollywood, show biz vets were giving memorials to the late exercise king.
Larry King said Sunday night that "there was no one like Jack LaLanne. He would go on forever... a true guru.
"I guess Charles Atlas from the old comic books would be the predecessor for Jack LaLanne," King said.
Price is Right host Bob Barker called his longtime pal LaLanne "amazing."
Barker, 87, told the AP LaLanne "never lost enthusiasm for life and physical fitness.
"I saw him in about 2007 and he still looked remarkably good. He still looked like the same enthusiastic guy that he always was."
Elaine LaLanne, his wife of 51 years, said in a statement, "I have not only lost my husband and a great American icon, but the best friend and most loving partner anyone could ever hope for."