Surfing Champ Andy Irons Death Investigated As Possible Drug Overdose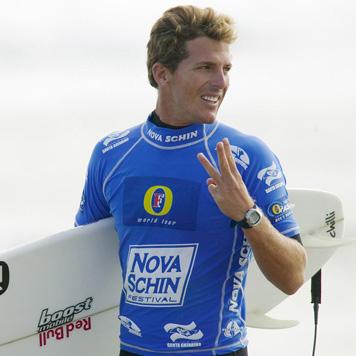 Surfing champion Andy Irons' death is being investigated as a possible drug overdose after methadone was found in the Texas hotel room where he died.
The Tarrant County Medical Examiner's Office revealed the new information. An autopsy is scheduled for tomorrow but the exact cause of death may require a toxicology test, which could take up to 90 days to complete.
The Star-Advertiser first reported the news about the surfing legend, who was dogged by drug abuse rumors a couple of years ago when he took time off after his performance dipped. Irons consistently denied he had a drug problem.
Article continues below advertisement
The 32-year-old world-class athlete was on his way home after withdrawing from a surf contest in Puerto Rico. According to the medical examiner's office, a staffer at the Grand Hyatt Hotel found Irons in bed when he failed to respond to a wake-up call. He was pronounced him dead at 9:46 am.
The medical examiner also said methadone was found inside a container of a prescription drug called Zolpidem, a drug frequently prescribed for insomnia. The container, along with several other medications, was found on a nightstand.
Irons' family said today that the surfer was suffering from dengue fever. Dengue fever is not a fatal disease and is a viral illness.
Irons wife Lyndie is seven months pregnant with the couple's first child.
ESPN reported that Billabong, one of Irons' major sponsors, issued this statement: "He fell ill in Puerto Rico and went to see the contest doctor. The doctor told him to withdraw from the contest and go back home to fix the disease."
Article continues below advertisement
Irons won three straight world championships (2002 – 2004).
According to the sports site Fanhouse his family released this statement: "The world of surfing mourns an incredibly sad loss today with the news that Hawaii's Andy Irons has died. Andy was a beloved husband and a true champion. Irons, 32, withdrew from a professional surfing event in Puerto Rico last weekend due to illness and passed away during a lay over en route to his home in Kauai, Hawaii.
"At this time the family sincerely thanks his friends and fans for their support and asks that the community respect their privacy. The family also asks not to be contact so their focus can remain on one another during this time of profound loss. Aloha."
While taking a year off Irons spoke candidly to surfermag.com and talk about his loss of motivation after having a public meldown in 2008. "I'm getting all these killer boards, and I'm not even excited about it," Irons said. "There's something wrong with that.