EXCLUSIVE: Jeff Conaway Dead At 60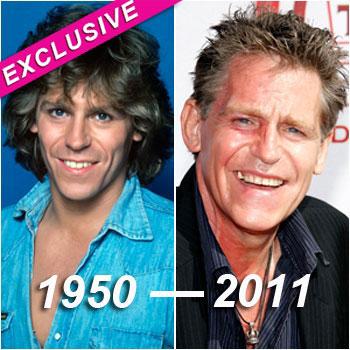 Actor Jeff Conaway has died at age 60, marking the end of a long, sad road of addiction that made him one of Hollywood's cautionary tales.
The New York native was best known for playing T-Bird Kenickie in the iconic musical Grease, and struggling actor Bobby Wheeler on the television series Taxi.
On TV, Conaway got his feet wet with parts in high-profile series such as Happy Days, The Mary Tyler Moore Show, Barnaby Jones and Kojak prior to landing the role in Grease. Later in his career, he starred in the 1983 fantasy spoof series Wizards and Warriors, and worked on The Bold And The Beautiful from 1989-90 and Babylon 5 from 1994-1999.
Article continues below advertisement
Conaway's resume included Silver screen credits in films such as 1988's Elvira, Mistress Of The Dark, 1999's Jawbreaker and and 2001's Do You Want To Know A Secret. His only directing credit came with the 1992 dud Bikini Summer II, which he starred in alongside Howard Stern regular Jessica Hahn.
Conaway's personal life was one marked by strife, broken relationships and unsteady work as admittedly he long-battled the demons of drug addiction, most notably cocaine, alcohol and painkillers.
Conaway married his Grease co-star Olivia Newton John's sister Rona Newton John in 1980 , though the couple would divorce just a few years later in 1985.
He married Michele Conaway in 1990 the couple then separated although it is not known if they ever formally divorced.
Sadly, in the mid 80's Conaway had to come to terms with the fact that he had a drug and alcohol addictions that were to plague him for the remainder of his life.
Article continues below advertisement
Conaway appeared in VH1's Celebrity Fit Club but was forced to leave and enter rehab – in early 2008 he appeared on VH1's reality series Celebrity Rehab with Dr Drew.
Viewers were shocked with the ravaged appearance of the actor who admitted that he was addicted to cocaine, alcohol, painkillers and that he was involved in a co-dependent relationship with girlfriend Vikki Lizzi. He appeared on the second series of the show and was often seen in a wheelchair as his condition and addictions seemed to spiral further.
In 2010 he suffered a near fatal fall that caused a brain hemorrhage plus neck and hip fractures that he struggled to recover from.
In March 2011 he got involved in a messy court battle with Lizzi where he was granted a court protection order from her after he claimed that she had injected him with pain killers and orchestrated a police drugs raid at a home they once shared.
It was Lizzi who found him slumped unconscious at an Encino Apartment on May 11, 2011, suffering from a drug overdose.