Former First Lady Betty Ford Dead At 93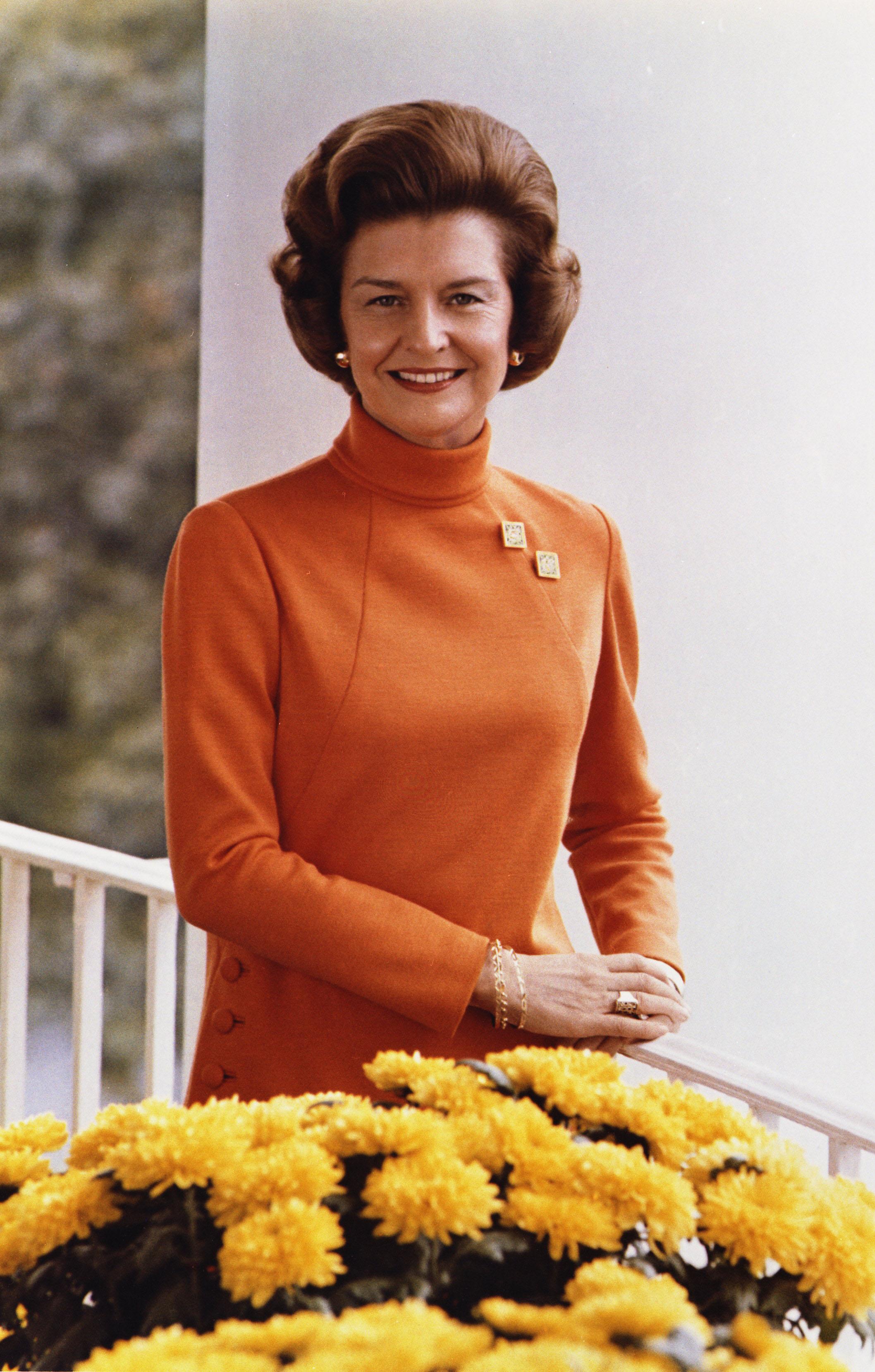 By Neil Woulfe - RadarOnline.com News Director
Betty Ford -- the free spirited, former First Lady who bravely went public with her own drug and alcohol addictions to help others -- has died at the age of 93, RadarOnline.com has learned.
Mrs. Ford -- who was married to late President Gerald Ford for 58 years -- passed away Friday at the Eisenhower Medical Center in Rancho Mirage, California with her family at her side. No other details of her death are being released at this time.
Article continues below advertisement
"Mother's love, candor, devotion, and laughter enriched our lives and the lives of the millions she touched throughout this great nation," her family said in a statement released late Friday. "To be in her presence was to know the warmth of a truly great lady."
During the 1970's, Mrs. Ford was known and beloved for her candor in a time when certain subjects were talked about only in whispers. She spoke openly of her battle with breast cancer and of having a radical mastectomy in 1974 -- inspiring countless women to seek breast exams.
Then, only fifteen months after leaving the White House, she make another deeply personal revelation when she announced that she was entering a treatment program to battle a longtime addiction to painkillers and alcohol.
She would later use her own struggles to help others by co-founding the now famous Betty Ford Center near the Fords' home in Rancho Mirage in 1982. Since its opening, the non-profit facility has helped some 90,000 people battle their addictions; many celebrities have sought treatment there, including Lindsay Lohan, Elizabeth Taylor, and Johnny Cash, to name only a few.
Article continues below advertisement
In a statement Friday, President Barack Obama said the Betty Ford Center would honor Mrs. Ford's legacy "by giving countless Americans a new lease on life.
"As our nation's First Lady, she was a powerful advocate for women's health and women's rights," the president said. "After leaving the White House, Mrs. Ford helped reduce the social stigma surrounding addiction and inspired thousands to seek much-needed treatment."
"She was a wonderful wife and mother; a great friend; and a courageous First Lady," former President George H.W. Bush said in a statement on Friday. "No one confronted life's struggles with more fortitude or honesty, and as a result, we all learned from the challenges she faced."
"She has been an inspiration to so many through her efforts to educate women about breast cancer and her wonderful work at the Betty Ford Center," former First Lady Nancy Reagan said in a statement. "She was Jerry Ford's strength through some very difficult days in our country's history, and I admired her courage in facing and sharing her personal struggles with all of us."
Article continues below advertisement
Betty Ford was born Ann "Betty" Bloomer on April 8, 1918 in Chicago, but as a child, her family moved to Grand Rapids, Michigan. In her younger years, she worked as a model and dancer. She was also actually married twice; first to William Warren, a salesman who traveled a lot. The marriage lasted only five years. While waiting for her divorce to become final, she met Jerry Ford, a former college football star, Navy vet and attorney. In one of her memoirs, she called Ford "probably the most eligible bachelor in Grand Rapids."
Celebrities Who Died In Bizarre Circumstances
They married in October, 1948 and would have four children -- Michael, Jack, Steven, and Susan. Two weeks after their wedding, Gerald Ford, a Republican, was elected to his first term in the House of Representatives. He would go on to serve 25 years, eventually rising to minority leader before becoming Vice President under Richard Nixon in 1973 after Spiro Agnew was forced from office in a bribery scandal. Less than a year later, Ford suddenly found himself President when Nixon resigned amidst the Watergate scandal.
On August 9, 1974, Gerald Ford was sworn in as the only chief executive in American history who hadn't been elected either president or vice president.
The Ford family is expected to organize a service in Palm Springs, California over the next couple days in honor of Mrs. Ford; she will be buried in Michigan alongside President Ford, who is buried at his namesake museum in Grand Rapids.