'60 Minutes' Broadcaster Andy Rooney Dies At 92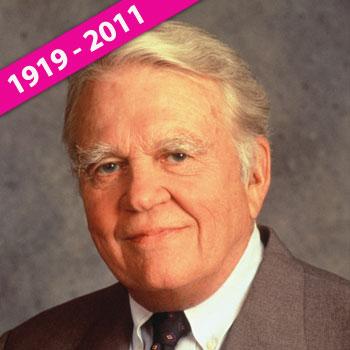 Legendary 60 Minutes personality Andy Rooney died Friday night.
The veteran newsman was hospitalized October 25 after suffering complications following surgery, just three weeks after he delivered his 1097th and final weekly segment on the CBS stalwart to cap off a 33-year run.
On October 2, the three-time Emmy-winner said in his final edition of A Few Minutes with Andy Rooney, "This is a moment I've dreaded ... I wish I could do this forever, but I can't, though ... but I'm not retiring. Writers don't retire, and I'll always be a writer."
Article continues below advertisement
In the segment, Rooney admitted he probably hadn't "said anything here that you didn't already know or have already thought ... that's what a writer does ... a writer's job is to tell the truth.
Rooney -- who began his regular on-air role with the show in July 1978 -- admitted one aspect of being on TV he didn't care for was being famous.
"I spent my first 50 years trying to become well-known as a writer, and the next 30 trying to avoid being famous," he said. "I walk down the street now or go to a football game and people shout, 'Hey, Andy!' And I hate that. I don't say this often, but thank you -- and if you do see me in a restaurant, please, just let me eat my dinner."
Rooney's writing exploits included four books about World War II; a stint at the military newspaper Stars and Stripes; and positions writing for entertainers Arthur Godfrey and Garry Moore.
The broadcasting legend is survived by four children. His wife Marguerite died of heart failure in 2004; the two were married 62 years.
Rooney died in a New York City hospital. He was 92.
RELATED STORIES: