Miley Cyrus, Kristen Stewart & More Celebs Who Were Trapped In Love Triangles In 2019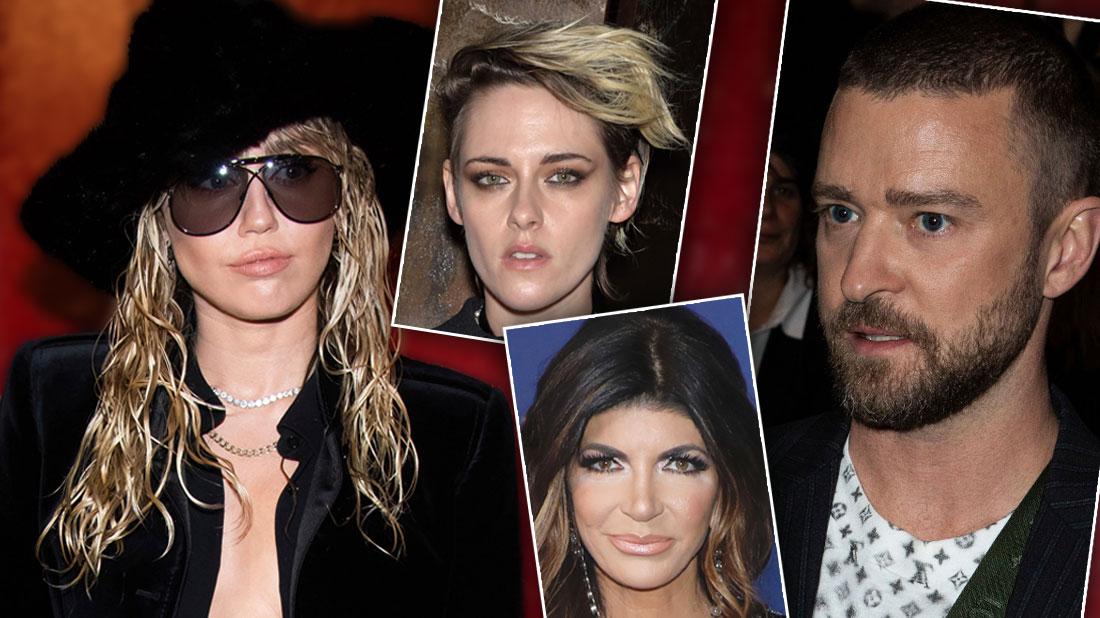 Celebrities' love lives took a hit in 2019. From cheating scandals to shock pregnancies, heartbreaking divorces and scandalous flings, these Hollywood stars did not disappoint.
One musical diva left her husband after just seven months of marriage to date her longtime female pal, and later, a hunk who undoubtedly resembles her ex! The two are now getting very serious, and the singer's divorce was just finalized.
Article continues below advertisement
A reality star denied cheating on her husband of twenty years while he served jail time for fraud, only to dump him days after his release and rush back to her ex-boyfriend.
One young actress played the field for years — jumping between a string of gorgeous women — only to dump them all for her longtime pal, whom she now plans to marry!
An elite actress put her own life aside for years to take her of her booze-loving ex-husband, but after much drama, she finally let go, finalized their divorce, and got serious with her new man. He, meanwhile, is still struggling to stay clean and on the right path without her.
And things only got crazier after that.
One of the movie industry's most beloved couples was rocked by infidelity rumors after the celebrated actor was caught getting cozy with his co-star during a wild night out, while his wife was back home, alone. He said sorry, but sources say everything is not well in paradise.
At the same time, another young couple went from smooching on the red carpet with their baby daughter to calling it quits with no explanation! And now, the single mom has been spotted getting flirty with a very famous singer.
Scroll through RadarOnline.com's gallery to look back at the most dramatic celebrity love triangles of the year and make predictions about what these stars can expect from their rollercoaster love lives in 2020.
Liam Hemsworth, Miley Cyrus, Cody Simpson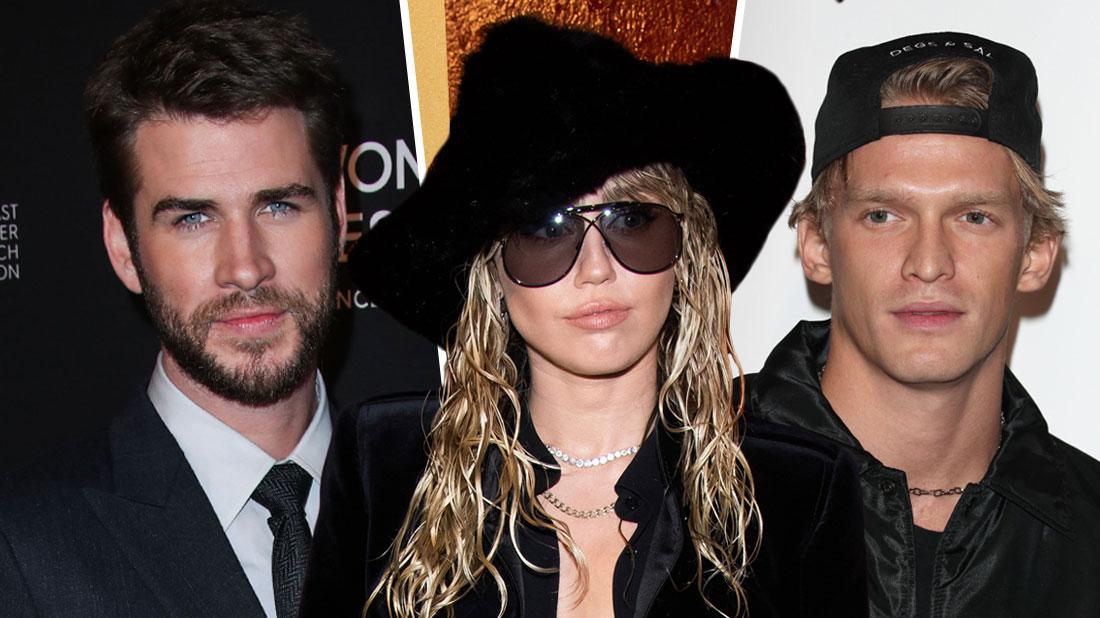 Miley Cyrus got herself into a pickle after her split from Liam Hemsworth. As RadarOnline.com readers recall, the stars called it quits in August, after just seven months of marriage. Days prior to announcing their separation, the "Malibu" singer, 27, was caught making out with The Hills star Kaitlynn Carter on a yacht in Italy. The blondes had a steamy weeks-long affair, but that fizzled out when Cyrus fell for Australian singer Cody Simpson. The singers have been shamelessly showing off their romance since October, and reportedly even moved in together. While for a while it seemed like Cyrus was living her best life with her new love, a source told RadarOnline.com that she was only flaunting her romance to get Hemsworth's attention, and realizing that he didn't care was driving her mad! "She was drunk dialing him for a while, so now she's resorted to social media to get his attention," the insider said.
The Hunger Games actor, 29, filed for divorce from Cyrus in August and moved on with Dynasty actress Maddison Brown. The two parted way after just a few dates, and Hemsworth has since been seen out and about with Aussie model Gabriella Brooks.
Article continues below advertisement
Kourtney Kardashian, Scott Disick, Sofia Richie,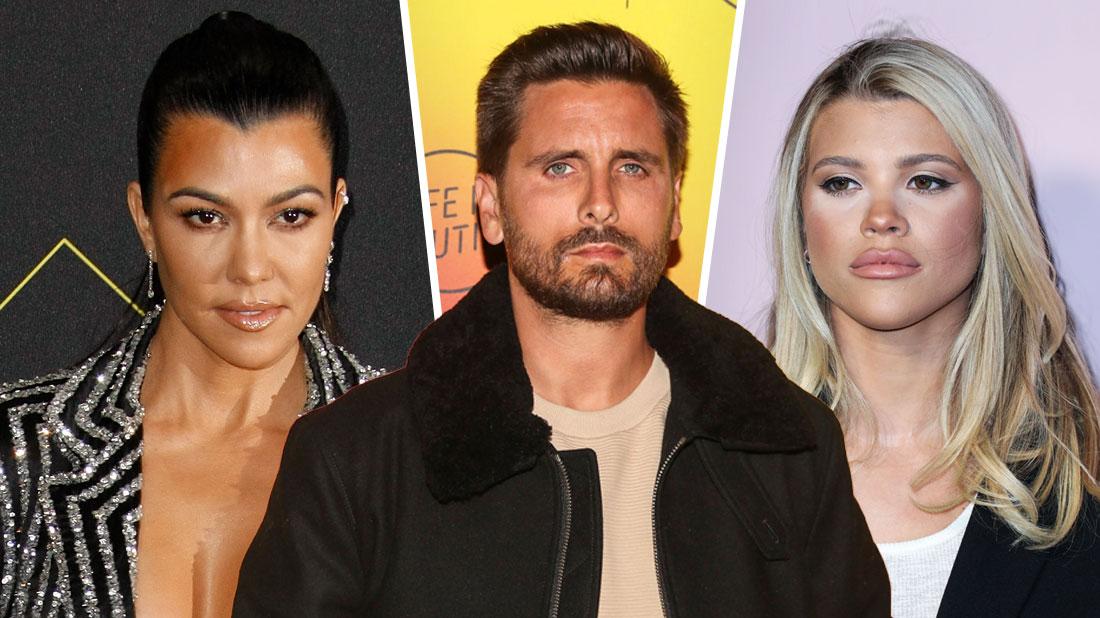 Scott Disick has been going strong with girlfriend Sofia Richie for two years now — but that doesn't mean things aren't still awkward with ex Kourtney Kardashian. This year, the parents of three had various bizarre moments with the young model. On an April episode of Keeping Up with the Kardashians, a Bali healer told Disick, 36, and Kardashian, 36, that they were "soulmates." Then, in October, Richie, 21, made her KUWTK debut, and things got weird when she took a dip in a hot tub with both Disick and Kardashian.
While Kardashian has denied she still has feelings for her ex, she broke down in tears on her 40th birthday saying she was questioning all her life decisions and essentially wished she had a man by her side. In confessional, her sisters said they believe Kardashian is still in love with Disick.
Article continues below advertisement
Travis Scott, Kylie Jenner, Drake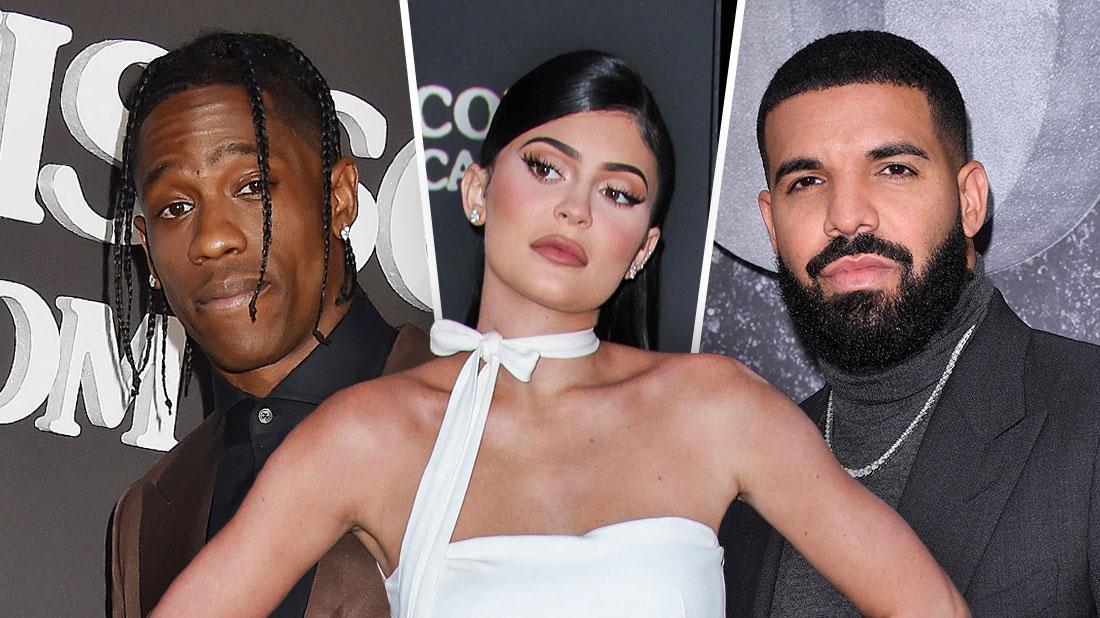 Kylie Jenner has stayed mostly silent about her sudden split from baby daddy Travis Scott, but days after news broke of their separation, the cosmetics mogul, 22, was spotted flirting and partying with Drake! In November, the "Highest in the Room" rapper, 27, even seemingly shaded Drake, 33, by calling his ex, "My beautiful wife," during one of his concerts.
Scott and Jenner are now amicably co-parenting daughter Stormi, and sources have said things between the lip kit diva and Drake have fizzled out — though the two seem very attracted to each other.
Article continues below advertisement
Jennifer Garner, Ben Affleck, Katie Cherry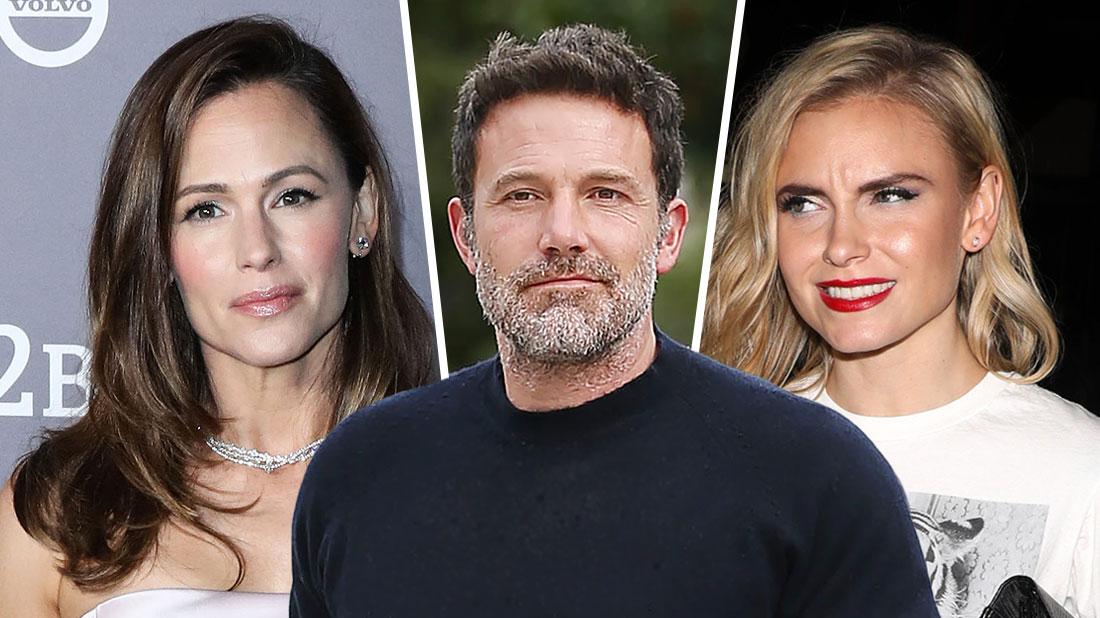 The one woman Ben Affleck can always rely on is ex-wife Jennifer Garner — but even she has her limits.
This year, after months and months of helping the Batman actor, 47, get through his addiction battles, Garner, 47, went public with her boyfriend, John Miller. The two have been spotted on various romantic dates, and the actress has even met his parents. Affleck, meanwhile, has continued his string of flings, and sadly fell off the wagon after celebrating one year of sobriety. At the time of his boozy relapse, he was partying with current girlfriend Katie Cherry.
A source told RadarOnline.com that Garner has demanded Affleck stop dating around and focus on his recovery and on their kids. An insider also said Garner is "disgusted" with her ex's hard partying ways.
Article continues below advertisement
Stella Maxwell, Kristen Stewart, Dylan Meyer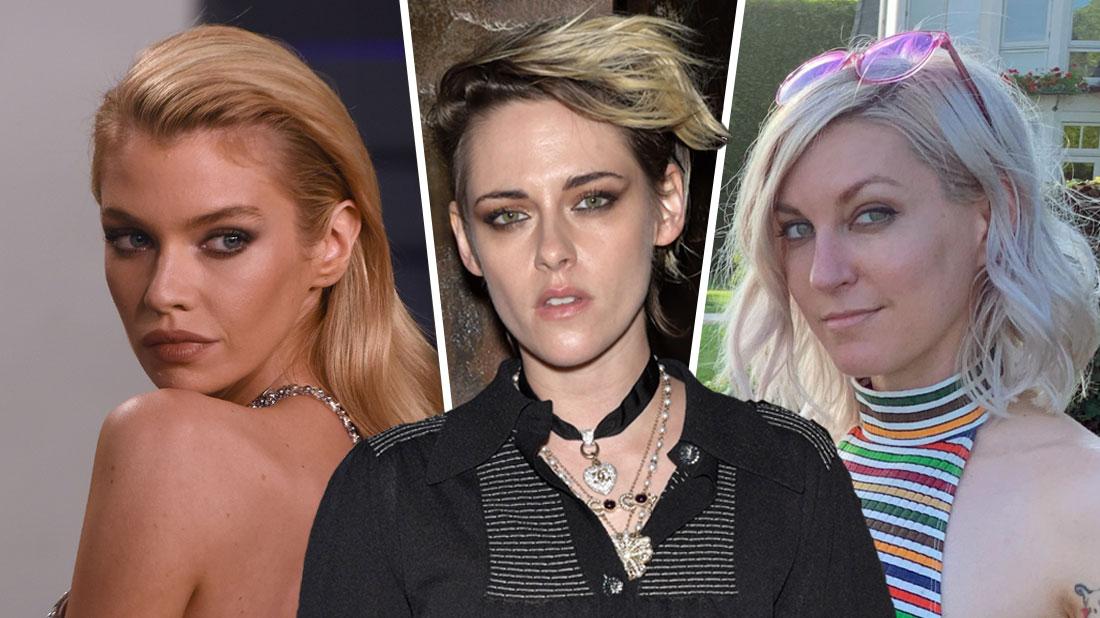 Kristen Stewart has not been shy about her many celebrity romances, but it seems that now, she's finally found the woman for her.
In a recent interview with Howard Stern, the Twilight actress, 29, admitted she is planning to propose to screenwriter girlfriend Dylan Meyer. "I want to be somewhat reasonable about it, but I think good things happen fast," the actress said.
The news, however, came as a shock to fans know who Stewart was dating Victoria's Secret model Stella Maxwell on and off for years and was spotted romancing stylist Sara Dinkin just a few months ago!
"The thing is that Kristen can do this and she can always get these women to come back to her because she's like a magnet. Anything that Kristen wants, Kristen gets And if she wants it again then she will get it again," a source close to Stewart told RadarOnline.com earlier this year.
Article continues below advertisement
Jessica Biel, Justin Timberlake, Alisha Wainwright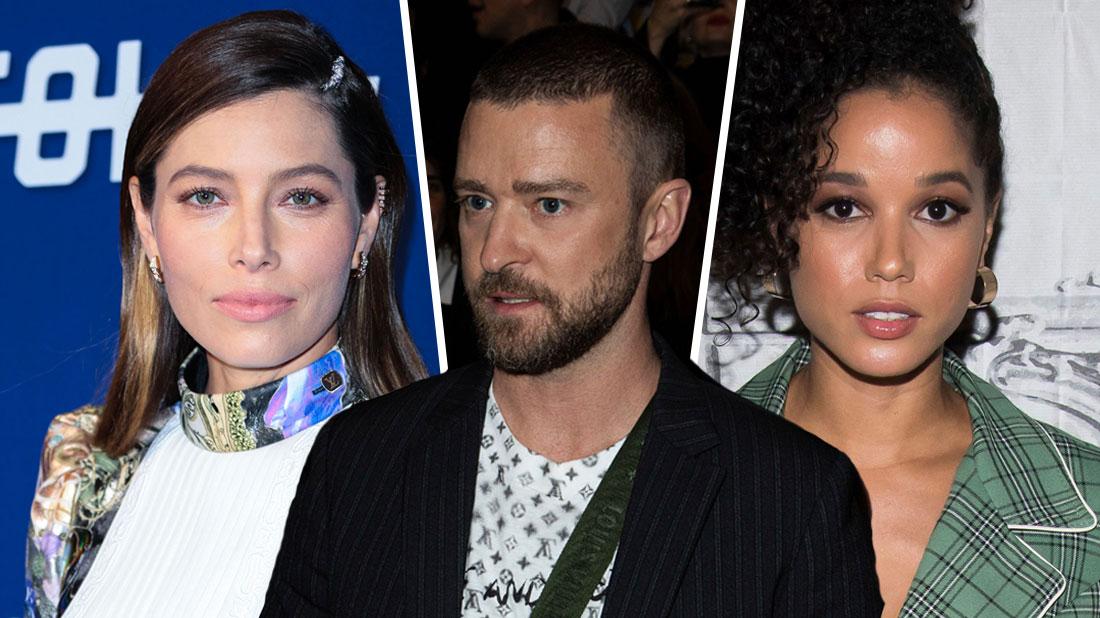 Justin Timberlake has vehemently denied that anything romantic is going on between him and Palmer co-star Alisha Wainwright, but in his wife's eyes, it's going to take a lot more than an apology for her to get over the scandalous PDA session.
As RadarOnline.com readers know, the actor, 38, was caught holding hands with Wainwright, 30, on a hotel balcony in New Orleans after a boozy night out with the film's cast. After photos and videos of the incident leaked, he publicly apologized to wife Jessica Biel, admitting that he had a "lapse in judgement."
To make up for the drama, Timberlake invited Biel, 37, to the set of Palmer so she could see him and Wainwright at work. Still, a source told RadarOnline.com that Biel is making the "Cry Me A River" singer take a lie detector test over the scandal, "She's gone from being in total shock to being livid and demanding to know what the hell is going on here," the insider said.
Article continues below advertisement
Joe Giudice, Teresa & Her "Pool Boy"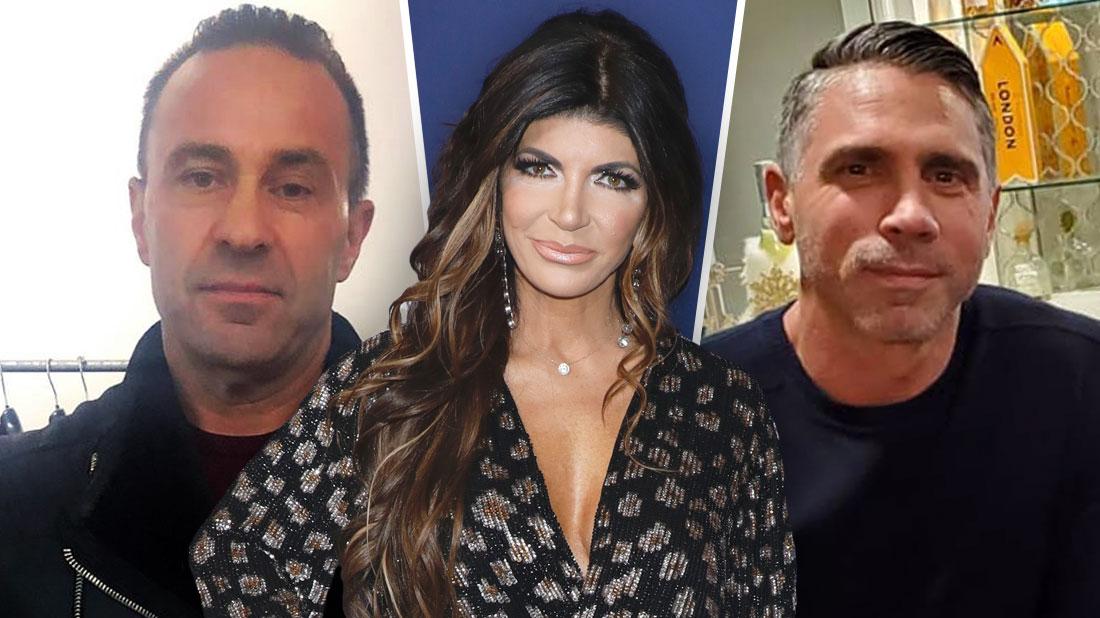 This year, Teresa and Joe Giudice agreed to call it quits after 20 years of marriage, and while nothing's been confirmed regarding the Real Housewives of New Jersey diva's post-breakup love life, RadarOnline.com readers know she's been spending a whole lot of time with her ex!
Earlier this month, the mom of four, 47, was pictured on a brunch date with former lover Anthony DeLorenzo — also known to Bravo viewers as "Tony the pool boy." She even spent Christmas Eve with him, her father and her brother as her girls jetted off to Italy to be with their dad, 49.