Exclusive
Katie Holmes Is Going To Have To 'Fight Her Way Out Of The Grip' Of Scientology, Claims Exit Counselor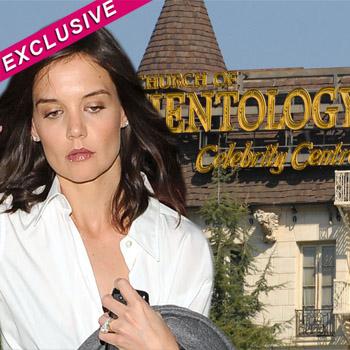 It's been claimed that it can be notoriously difficult to leave the Church of Scientology, so it is looking like Katie Holmes has a tough road ahead of her on top of the trauma of a divorce and child custody battle.
There are numerous horror stories from former L. Ron Hubbard followers who have made claims of the high security Gold Base where wayward members of the religion are allegedly held against their will for discipline or reeducation.
Article continues below advertisement
Amidst new allegations that Tom Cruise's two older children, Isabella and Connor, were told repeatedly by high-ranking Scientologists that their mother Nicole Kidman was a "sociopath" following her split from Cruise, some have said that Katie will need to be extremely vigilant to escape the controversial religion's iron-clad grip.
"Scientologists are programmed with phobias against mental health professionals," exit counselor Steve Hassan told RadarOnline.com in an exclusive interview.
"So the problem with people who leave on their own is they go for years having all kinds of traumatic symptoms such as nightmares, anxiety disorders, their identity slipping back and forth between Scientology beliefs and their real lives, and so on.
"The concern with Katie is will she get help from someone who can explain to her 'What is brain-washing? What is mind-control?' and not just go to who still believes in Hubbard and the thetan?"
Article continues below advertisement
Author of the new book Freedom of Mind, Hassan has worked with "countless" people leaving the Church of Scientology, and he alleges the church has a history of persuading members into staying within the fold by threatening to divulge intimate details they've shared in auditing sessions.
"There are a lot of people who get out of Scientology, but they are still negatively influenced and are still programmed to believe a lot of crazy stuff," he claimed to RadarOnline.com.
"The hardest part is dealing with the fact that your life was taken over and your mind was taken over, the mind slips in and out of different identities, so at any moment someone like Katie could be thinking, 'Did I make a mistake?' Or she might have some other trigger going off in her head.
"There's also the shame and the embarrassment, as people would have asked her, 'What are you doing?'
"Then there's the reconnecting with family and friends, apologizing to them, dealing with the friends and relationships in the group that you formed."
Article continues below advertisement
Hassan knows first-hand the struggles of leaving a controversial religion, as he was recruited to the Moonies in the 1970s, and he claims he was kept under their mind-control for over two years, and only escaped after he was hospitalized with a broken leg following a bad car accident when he fell asleep at the wheel.
"My family was looking for me for a year, and after I spent two weeks in the hospital I called my sister, who was the only person that didn't tell me I was in a cult, so I didn't think she was evil, and she lured me to go with her," he revealed.
"She promised not to tell my parents, and lied, and they basically took my crutches away and did an intervention with me that was fortunately successful."
The defector claims he endured death threats and kidnapping attempts before he went through a radical belief system change that helped him recognize the extent of the brain washing he'd endured.
"My best advice to Katie is to start writing down what you thought you were getting involved with, and any particular memories that struck you as weird or odd or bad that you didn't like but you went along with," the mental health counselor explained to RadarOnline.com. "Start unpacking the experience and put it on paper, I would encourage her to start reading a lot of books on the subject.
Article continues below advertisement
"You want to get in touch with your negative feelings because you were in a organization that told you not to be. You are going to get better, it is going to take time, it is like taking a cast off – your muscle is going to hurt and be weak and just like it takes time to build up your strength, the mind takes time to recover too."
The 33-year-old mom's biggest fear is no doubt losing custody of her 6-year-old daughter Suri, but Hassan doesn't think she will suffer the same fate as Kidman.