Mystery Surrounds Whereabouts Of Scientology Chief's Wife, Not Been Seen For Five Years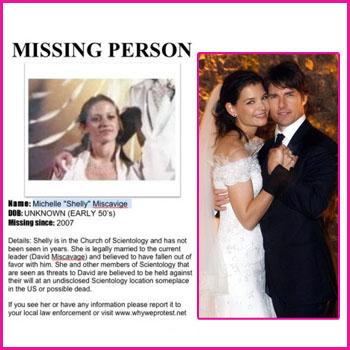 The woman who reportedly brought Tom Cruise and Katie Holmes together has not been seen in public now for five years, leading many to ask, where she is and what has happened to her, RadarOnline.com has learned.
Shelly Miscavige, the wife of Scientology head David Miscavige (Tom's best man in 2006), has been in the wind since 2007, according to a report in The Village Voice.
Shelly introduced Cruise and Holmes, according to Andrew Morton, author of Tom Cruise: An Unauthorized Biography. Morton wrote that following Cruise's split with Vanilla Sky co-star Penelope Cruz, "the lovelorn actor turned to his best friend, Scientology leader David Miscavige, for help in finding a new wife ... he deputized his wife, Shelly, to take over the task."
Article continues below advertisement
Shelly, who was a COB Assistant in the church, has not been seen in public since 2007, spurring many theories as to what happened: with some speculating she died from cancer and others saying she's in hiding after breaking off from the controversial movement.
The MailOnline report on one rumor that she was punished by her husband after she was caught filing out job applications, banished to an alleged prison-like encampment at Scientology headquarters Gold Base ex-Scientologists dub "The Hole."
But, the Village Voice says there's no basis to that report, and cite instead a claim from John Brousseau, who escaped from Scientology's Int Base in 2010.
Brousseau tells the Voice that it was "common knowledge" at Int Base that Shelly was being held at another base -- the headquarters of the Church of Spiritual Technology (CST), a complex in the mountains above LA.
In a statement, Scientology attorney, Gary Soter insists: "Shelly Miscavige is not missing. The claim is utterly ridiculous and unfounded."