Nicole Kidman Keeping Quiet On Tom Cruise & Katie Holmes Divorce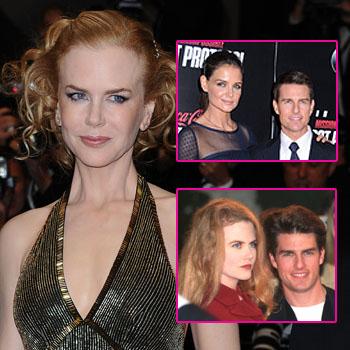 Nicole Kidman has been noticeably quiet about her ex-husband being hit with divorce papers by Katie Holmes.
When Kidman and Cruise divorced in 2001, it was one of the nastiest splits Hollywood had ever seen, with both sides revealing details of their life together in declarations that were made public by their sparring attorneys.
Kidman's declaration -- unnecessary under California's no fault divorce laws -- revealed she was stunned when Tom told her that he no longer wanted to be married and that she'd asked him to stay and get marriage counseling. He refused and left for good.
Article continues below advertisement
"On Dec. 24 the parties had happily celebrated their 10th anniversary with a group of friends. During the balance of December and thereafter the parties were intimate; In fact Kidman became pregnant by Cruise but lost the baby through a miscarriage," her statement claimed.
"I think that divorce is hard for anyone. It's a nightmare, it just is," she told Oprah Winfrey four months later.
Kidman and Cruise are parents to two adopted children, Isabella and Connor.
Speaking of Bella's adoption, Kidman cryptically told Vanity Fair in 2007, "There's a complicated background to that, given that I never speak much about many things. One day maybe that story will be told."
Bella and Connor have lived almost exclusively with their father and were raised in Scientology, following his split from Kidman.
Kidman returned to her Catholic roots and is raising her children with country singer Keith Urban in the faith.
Article continues below advertisement
Ironically, Katie Holmes was raised Catholic, and as RadarOnline.com previously reported, she had Suri in a Catholic pre-school at one time.
In her divorce petition, Katie's asking for sole legal custody of her daughter, meaning she'd have complete authority over where Suri lives and how she'd be educated.
As RadarOnline.com previously reported, Katie likely won't be able to use Scientology as a reason to get sole custody of Suri. Her legal team will have to argue specifics of how Tom wants Suri raised that she considers to be detrimental.