Exclusive
Eating Their Words: What Tom Cruise & Katie Holmes Said About Their Marriage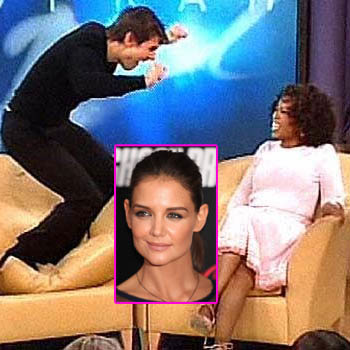 Sure it was his third marriage, but Tom Cruise couldn't stop gushing about how Katie Holmes was the ultimate woman for him and now that the couple is divorcing RadarOnline.com brings you some of the revealing and not-so-accurate quotes from Tom and Katie discussing their love and marriage.
"I know I'm with the woman I want to spend the rest of my life with. So the wedding – that's just the party," an elated Tom said in 2006 before his over-the-top nuptials in Italy.
Article continues below advertisement
And it seemed as if love would last forever the third time around when he told a magazine: "I won't let this woman get away."
Oops, well, as bad as that quote looks, now the infamous Oprah couch-jumping incident really seems ridiculous. After Tom did his pogo stick madly happy routine on Oprah's daytime show he said about life with Katie: "I really just knew. It was an explosion. And she is just magic. And I really think that all men should celebrate their women. … They should all jump on couches for them. … When you find that woman, you should absolutely be unabashed about it. That's how I feel about it."
MORE ON:
hollywood happenings
Looks like that celebration had an expiration date. But Tom wasn't alone in his over-the-top quotes of elation. Katie joined in too, saying: "From the moment I met him it just felt like I'd known him forever. I was blown away. He's the most incredible man. He's so generous and kind, and he helps so many people, and, um, he makes me laugh like I've never laughed, and he's a great friend.… Tom and I will always be in our honeymoon phase.… Tom is the most incredible man in the world."