Oprah Tapes Her Final Show In Front Of Hand-Picked Fans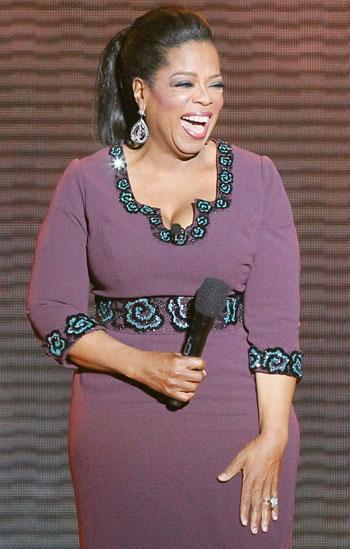 Television queen and daily staple for the last 25 years, Oprah Winfrey taped her final show Tuesday afternoon.
In an audience filled with handpicked fans dressed in brightly-colored outfits, Oprah said goodbye to the nation's most popular daytime talk show.
Gayle King, Oprah's best friend, was outside the studio recording the guests with a handheld video camera. The studio audience lined up three hours before the taping began.
Article continues below advertisement
One fan, Sally Rudy, told Gayle that Oprah "helped me raise my children for the last 25 years," according to the New York Times. She said she came to the taping "Just to tell her thank you."
The fans said they had submitted essays on Oprah.com telling why they should receive tickets to the show, and were invited over the weekend to come to Chicago for her last show.
As RadarOnline.com previously reported, Oprah Winfrey was dining with her long-time friend Maria Shriver when the estranged wife of Arnold Schwarzenegger received a phone call that the Los Angeles Times was about to break the news of her husband fathering a child out-of-wedlock.