Exclusive
Holmes & Cruise Divorce: Katie Dumped Tom, Wanted To Step Out of His Shadow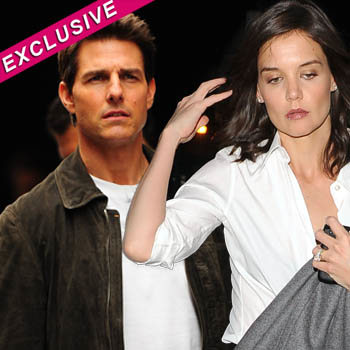 By Jen Heger - RadarOnline.com Assistant Managing Editor
Katie Holmes was the one to pull the plug on her five year marriage to Tom Cruise, and RadarOnline.com has exclusive details on why.
The actress is keen to step out of her superstar husband's shadow and focus on her stalled acting career – and in addition, the couple were battling over how to raise their six-year-old daughter together, Suri.
"Katie just wants to live out of the spotlight of Tom. She wants to focus on her acting career, which has taken a backseat since her marriage," a source close to the situation tells RadarOnline.com. "She is currently filming a movie and has another project lined up and she wants to amp up her career another notch, which she has struggled to do the past few years. Tom was always very vocal about what roles Katie should play.
Article continues below advertisement
"Katie and Tom also have very different parenting views. Katie wants Suri to go to school with other children and have a grounded routine whereas Tom doesn't, he wants her schooled in the same manner as Connor and Isabella were. Tom is nowhere near as strict as Katie is and doesn't believe in disciplining Suri, whereas Katie believes that is important. Tom basically treats Suri as a little adult, however Katie treats her like a six-year-old child, and that causes some major clashes over parenting style."
Meanwhile, one thing the couple won't be fighting over is money!
"Tom and Katie have an absolute iron-clad pre-nup and Katie doesn't intend to contest any element of it," the source says. "The only thing to be hammered out will be custody of Suri -- Katie wants primary custody, and she will get it. Katie's father Martin Holmes is an attorney and he is giving advice to his daughter during the divorce proceedings. Katie is relying on her parents now more than ever and they have been her rock."
Article continues below advertisement
As previously reported, Hollywood's top couple have been married since November 2006 and her attorney announced the news of their split. "This is a personal and private matter for Katie and her family," Katie's attorney Jonathan Wolfe told People magazine. "Katie's primary concern remains, as it always has been, her daughter's best interest."
Meanwhile, Tom's rep released a statement: "Kate has filed for divorce and Tom is deeply saddened and is concentrating on his three children. Please allow them their privacy."