Tom Cruise: Suri 'Terrified' By Russell Brand's Striking Look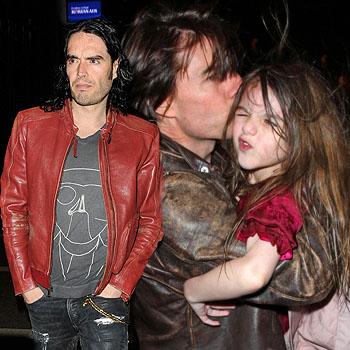 Sure he's one of Hollywood's most in demand bachelors -- and boasts an ex-wife who makes the masses drool -- but the harsh reality remains: Russell Brand's got a look that makes small children cry.
Or, at least Suri Cruise.
"The first time she saw Russell striding over towards her she burst out crying -- literally burst out crying on the spot," Suri's famous dad Tom recalled to pals at a Rock of Ages after-party, according to the UK Daily Star. "She was terrified of him."
Article continues below advertisement
"She isn't used to being around people who are so tall," said Tom, who plays rocker Stacee Jaxx in the summer musical. "I mean, the man has freakishly long limbs!"
The lanky comic, insiders said, eventually won the little one over "pulling faces and talking funny."
Tom said he hopes Russell has children of his own "because he'll make an awesome father one day," a source told the publication, adding that Russell "laughed and shook his head, but looked quite touched by the remark."