Russell Finally Gets His Girl! All The Deets On Brand's Lucky New Lady!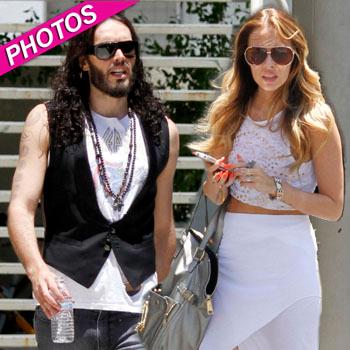 If at first you don't succeed, try, try again! That's obviously Russell Brand's motto, as he finally lands his new lady after several unsuccessful attempts!
The playboy actor has moved on from David Hasselhoff's ex, singer/model Anouska de Georgiou, and taken up with 23-year-old fashion stylist Maeve Reilly, RadarOnline.com is exclusively reporting.
Sources claim Russell has had eyes for the sandy haired stunner for months, but she was giving him the brush off until recently.
Article continues below advertisement
"Maeve knew all about Russell's reputation and all her friends were telling her to stay away. She moved to Los Angeles recently from New York and she really wanted to focus on her career."
And so far she's been very successful, counting Demi Lovato among her high profile clients.
"But the fact that she wasn't interested just made Russell pursue her more," the source says.
And Russell has had plenty of opportunities to pursue.
"They have a lot of mutual friends and travel in the same social scene. So Russell would bump into her a lot and really turn on the charm," the source says. "Eventually he wore her down. He always does. Maeve has mile long legs and she loves to show them off in 4 -inch stilettos. The first time Russell saw her, he went up to her and asked her how long it takes to shave her legs!"
It's early days still though for Russell and Maeve as they have only been out on a few dates so far.
Article continues below advertisement
"She has her guard up but she thinks he's adorable and Russell says all the right things. No matter how skeptical a girl is, he can have her thinking she's the only one. But as soon as she drops her guard, he's on to the next one," the source says.
RELATED STORIES:
Katy Perry On Her Divorce: 'People Think We're Perfect And We're Not'
Russell Brand On Katy Perry: 'I Love Her As A Human Being … I Don't Regret It'