Love DOES Cost A Thing! Hollywood's Most Expensive Celebrity Divorces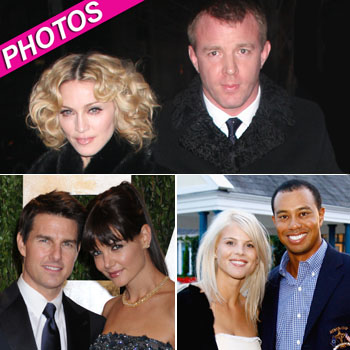 How much does it cost for Hollywood's rich and famous to get out of miserable marriages?
Katie Holmes filed for divorce on Friday after five years of marriage to Tom Cruise, in what will most likely be one the most expensive settlements in Hollywood history.
With all their assets and earnings, Hollywood's biggest stars are no strangers forking over millions and millions to end a relationship –- and RadarOnline.com has photos and details about some of the most expensive divorce settlements in history.
Article continues below advertisement
It isn't cheap to cheat! After Tiger Woods' extramarital affairs went public, his gorgeous wife of more than five years Elin Nordegren may have remained silent, but she saved her scorn for divorce court! The Swedish stunner walked out the marriage with a rumored $100 million settlement, and a new take on life.
When Madonna said 'til death do we part' to Brit director Guy Richie, she apparently thought she meant it! The legendary singer had to pay up when she filed for divorce – to the tune of $76 to $92 million!
Steven Spielberg may have only been married to Amy Irving to four measly years, but the legendary director made a massive mistake – by writing out a prenuptial agreement on a napkin – and the actress banked half of her ex-husband's fortune.
Harrison Ford and Kevin Costner have more in common than their successful careers. Both blockbuster hunks suffered major financial setbacks when they divorced their longtime wives – to the tune of $80 million plus settlements!