Exclusive
EXCLUSIVE: Tiger Woods Divorce Payout To Wife Revealed - $110 Million!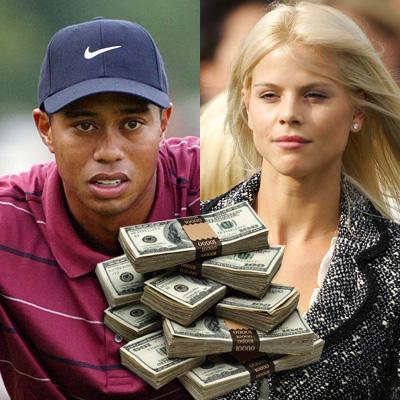 Tiger Woods divorce payout to Elin Nordegren was $110 million, RadarOnline.com has learned exclusively.
The amount has not been revealed previously.
And although Elin walked out of the marriage with a fortune, she's not flaunting it, and has certainly not been extravagant, one source close to the situation told RadarOnline.com exclusively.
She flew to California and back to Orlando this past week on Virgin America, instead of chartering a private jet.
Article continues below advertisement
In the past she has had access to a private jet from Tiger's camp.
"She could afford the jet but didn't even consider it," the source said.
"She's not cheap, but she's just not throwing money around and wasting it the way some people would."
Elin still employs nannies and other household help as she shares custody with Tiger of their two children.
"But she has cut back some of the hours some people work," a friend told us.
"She's not acting like she hit the lottery."
Far from it. In fact, Elin is still recovering emotionally from the trauma of discovering her husband had a secret life of serial cheating.
Her payout is approximately 12 times more than Tiger's most recent mistress, Rachel Uchitel, received from the golfing legend.
But it's not nearly as much as she could have received, some people believe.
Tiger's exact net worth is unknown publicly but one source says it is approximately $500 million, meaning Elin could have received at least another $100 million.
Article continues below advertisement
"Tiger is worth hundreds of millions of dollars, with his earning, investments and the endorsement deals he's made over the years," a source told RadarOnline.com.
"Elin got a lot of money, but she could have received more.
"She wanted enough money to not change her luxurious lifestyle but she didn't try to take him for every penny that she could.
"Elin wants to get on with her life."
Part of that may include a move to South Florida, where Elin has been shopping for a home. Tiger has an $80 million mansion in the area.
And while the former couple's divorce settlement is complex, custody was a key issue that caused prolonged negotiations.
"Tiger was worried Elin was going to move back to Sweden and take their children," the source said.
"That was a bigger hang up than money. Making sure he had access to Sam and Charlie was crucial for Tiger."
RELATED STORIES:
EXCLUSIVE: Tiger Woods Sex Tape A 'Scam' Claims Hooker's Ex Manager