Exclusive
Katie Holmes' Family Given Information About 'Grip' Scientology Has On Tom Cruise, Says Ex-Member Marty Rathbun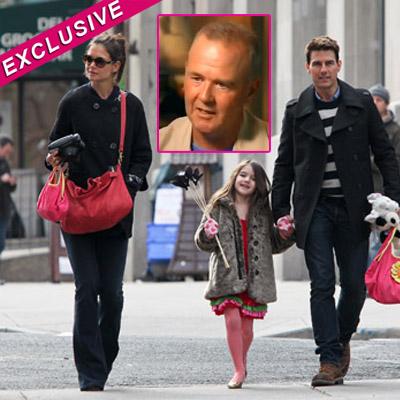 Article continues below advertisement
"I did audit sessions with Tom Cruise from 2001-2004, and I can tell you that I have a friend that has been providing Katie Holmes' family information for years about the iron grip the Church of Scientology has on Tom Cruise's family and professional life. This has been going on for at least four years" Rathbun says.
Rathbun declined to reveal if the information was being given to Katie's lawyer father, Martin, or her mother Kathleen.
As RadarOnline.com previously reported, Katie's lawyer announced she'd filed for divorce and that was quickly followed by a statement from Tom's rep, who said, "Kate has filed for divorce and Tom is deeply saddened and is concentrating on his three children. Please allow them their privacy."
Holmes filed for divorce in New York, and is seeking sole legal custody and primary physical custody of their daughter, Suri.
Article continues below advertisement
Marty Rathbun became a Scientologist in 1977 and quickly rose to the highest ranks within the church and became a Sea Org, which troubleshoots and audits people and problems, within the organization.
According to literature, "Auditing is a central practice in Scientology through which a practitioner is cleared of negative influences known as engrams in order to heighten spiritual awareness and access currently untapped potential. Auditing sessions involve two people: the person being audited and an auditor. The person being audited is generally referred to as a pre-Clear in public Scientology literature, although Clears continue to participate in a similar process. The auditor monitors a device known as an electro-psychometer, or E-meter. The pre-Clear holds a metal cylinder in each hand, both of which are attached by wires to the E-meter."
"Katie's father is very involved in the divorce proceedings and working closely with Katie's lawyer. Katie's father has truly been her rock in the last several months and she just doesn't know where she would be without him," a source close to the situation tells RadarOnline.com.
Rathbun left the church in 2004 because of alleged violence he witnessed at the headquarters in Florida. Marty's book, What Is Wrong With Scientology? was recently released and is available on Amazon for $17.76.