Exclusive
Cruise & Holmes Divorce: Katie Was Sick Of Being Controlled By Tom, Says Source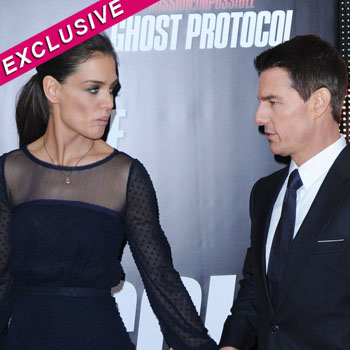 Katie Holmes was spurred on to file for divorce from Tom Cruise after becoming "sick" of the actor's controlling ways, a source tells RadarOnline.com exclusively.
As previously reported, the couple announced Friday that they are splitting after five years of marriage. Tom's rep said in a statement: "Kate has filed for divorce and Tom is deeply saddened and is concentrating on his three children. Please allow them their privacy."
Article continues below advertisement
A source close to the Dawson's Creek star tells RadarOnline.com that as the excitement and glamour of dating one of the world's biggest superstars wore off Katie was left feeling more and more irritated by Tom and his desire to control their relationship, their daughter's upbringing and Katie's every move.
"When Katie first met Tom she was blown away by him," the source says. "She had idolized him as a child and then here she was, with him, in person. Tom turned on the mega-watt smile and the amazing charm that he is capable of exuding and Katie was totally caught up in it all.
"He totally whisked her off her feet, romance, love, private jets, shopping sprees, all the razzle dazzle that goes with being an A-lister, Katie got caught up in. The next thing you know, she is pregnant and then she's getting married in this fairytale ceremony — she literally didn't have time to breath, let alone take stock of the situation."
The source goes on to say that as time when on though, the reality of Katie's situation and what it meant to be married to a superstar really began to sink in.
Article continues below advertisement
"Tom has always made all the decisions in their relationship and called all the shots and initially Katie found it charming -- don't forget, she was pretty young when they met and compared to Tom she was hardly worldly," the source says. "Tom hated her being called Katie, and wanted her to insist on being called Kate, which she hated. He vetted all her movie roles, made all the decisions about where and when they would vacation, how Suri would be raised, when she spoke to her parents, where they went for dinner, everything!
"After five years of this Katie really felt like she was going crazy and that she was actually turning into the robot that the press had always made her out to be. Katie has actually got a great personality and she used to be spunky and feisty. She changed so much when she was with Tom, she became downtrodden and insipid.
"In the end it just got too much, she was sick of it and decided she had to do something. Basically, she grew up and lost the starstruck goggles she had been wearing."
Article continues below advertisement
As RadarOnline.com previously reported, the couple had also been majorly butting heads over how to raise Suri and as Katie gradually regained her self confidence once again, the source says, she decided she had to go it alone for the sake of her daughter.
"Katie did not want Tom making all the decisions in Suri's life, and that's what was going on. She decided it was high time she started deciding on what was best for her daughter, or at least having an equal say, and she knew that would be impossible if she remained Mrs. Tom Cruise," the source says.