Cops Called As Gunmen Spy On Katie Holmes In New Home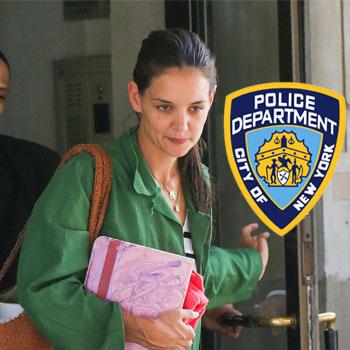 Authorities were summoned to Katie Holmes' apartment building in Chelsea, New York on Friday after the actress reportedly told a neighbor she's worried she's being stalked.
The incident -- first reported by the New York Post -- happened on the same day that news broke that Holmes had filed for divorce from Tom Cruise after five years of marriage and was seeking primary custody of their 6-year-old daughter Suri.
Article continues below advertisement
Sources told the Post one of Holmes' neighbors called the police; since the actress didn't file a complaint herself, police did not take any action.
On Sunday, five imposing men -- at least two, carrying firearms, The Post reported -- sat in a white Cadillac Escalade (with Tennessee license plates) outside the 7th Avenue apartment, taking pictures and interrogating people outside the building. (Tom remains in Iceland, where he's shooting the film Oblivion.)
Police, after receiving reports of "suspicious activity in a white Escalade," asked the men what they were doing there, but did not get any substantive answers. A reporter for the New York Daily News tried to interview the men, but they refused to roll down their windows to speak.
An insider told the Post the church might play a prominent role in why Katie filed for divorce from the film star after after just five years.
Article continues below advertisement
"Katie saw all the pressure -- Scientologists are professionals at pressuring people to be quiet," the pal said. "That's why she did this in secret. Suri is at the age where they are going to start educating her in Scientology centers and indoctrinating her into the religion. Katie did convert when she and Tom were married, but she didn't take to it. Behind closed doors, and when the private planes and the red carpets were gone, she didn't like it.