Suri Cruise Gets The Thumbs Up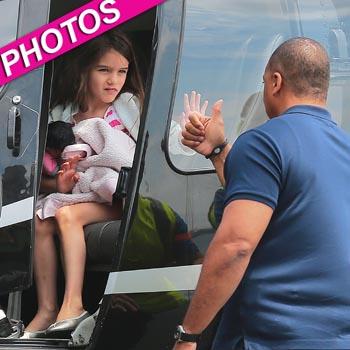 Suri Cruise got a special send off from one of her buddies Friday. After being strapped into the helicopter that was transporting the six-year-old and her mom Katie Holmes from New York, Suri got a big thumbs up from their bodyguard.
Suri looked a little anxious. She had her favorite blanket with her -- Tom Cruise's daughter is rarely seen without one of her blankies -- and a small cloth doll tucked in to the seat with her.
Article continues below advertisement
Katie had her own moment before boarding. After giving the bodyguard a big hug, the back of her dress blew up -- Marilyn Monroe style -- and Holmes let loose with an embarrassed laugh.
Katie had been in Kent, Connecticut, where she was shooting a modern day version of The Seagull and her presence in the quiet village caused a big of a stir.
"We had noticed that she had been here a couple of weeks," Mike Moriarty, co-owner of J.P. Gifford Market & Catering Company, told The Litchfield County Times.