A Look Inside Scientology's Controversial Sea Org Base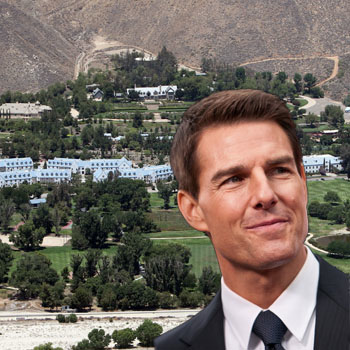 As more details come to the forefront about what role Tom Cruise's involvement with Scientology played in his split with Katie Holmes, we've got an up-close and personal look at Sea Organization, a subsection of the movement's 500-acre Gold Base in Gilman Hot Springs, California.
According to reports, the FBI has investigated the site and its inhabitants in connection with human trafficking; the heavily guarded property is equipped with motion sensors, razor tipped wire and a possible nest bunker.
Article continues below advertisement
The New Yorker ran a shocking exposé earlier this year with other eyebrow-raising claims from former members including: as many as 6,000 associates are only paid $50 weekly for their services there; and can be imprisoned in one of two punishment-designated trailers nicknamed "The Hole" for violations as minor as looking at someone the wrong way.
According to an ABC News report, the associates are not permitted to leave the property, and if they try, will be hunted down by military-style teams who might employ emotional or physical punishment for the infraction, former members say. In some instances, associates can be subjected to "voluntary" punishments including isolation, manual labor, malnutrition and sleep deprivation.
Gary Morehead, who used to work as security for the Scientologists, says he rounded up at least 100 people who tried to leave the base in his 13 years with the organization. The escapees might also be presented with a six-figure bill known as a "freeloader tab" for services received there.
In 1985, Scientology faced a $25 million lawsuit from ex-member Lawrence Wollersheim, who said he was emotionally injured after officials locked him in the hold of a ship for up to 18 hours a day with no food.
Article continues below advertisement
As RadarOnline.com previously reported, Holmes filed for divorce in New York last Thursday, and is seeking sole legal custody and primary physical custody of the couple's 6-year-old daughter, Suri.
***
Unfortunately, due to experiencing unusually high levels of traffic we have had to temporarily suspend our comments function. We will resume comments again as soon as possible.
RELATED STORIES: