Exclusive
Katie Holmes Was Always 'Careful' During Scientology Auditing, Never Revealed Too Much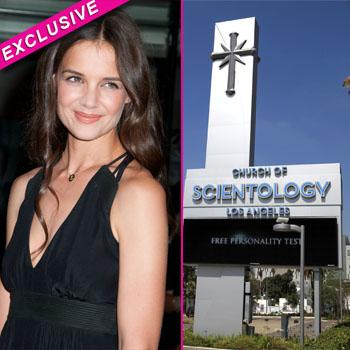 Article continues below advertisement
"Look, Katie led a very ordinary and honest life before she met Tom and tried to continue to do so during the time she was with him. Katie is level headed and extremely smart. She was never completely committed to Scientology, but she participated because she truly was in love with Tom and she knew it meant a lot to him. Her heart just wasn't in it though, she was always guarded and careful during the auditing sessions with what she revealed."
As we previously reported, Katie Holmes' family has been getting information for years on "the iron grip" that Scientology has on Cruise's personal and business life, ex-high ranking Scientologist Marty Rathbun told RadarOnline.com in an exclusive interview. "I did audit sessions with Tom Cruise from 2001-2004 and I can tell you that I have a friend that has been providing Katie Holmes' family information for years with information about the iron grip the Church of Scientology has on Tom Cruise's family and professional life. This has been going on for at least four years," he said.
Article continues below advertisement
The audit sessions with Katie Holmes and Tom Cruise were ALWAYS either audiotaped or videotaped, according to Rathbun. "Yes, the sessions were either audiotaped or videotaped, and those remain with the Church of Scientology. The Church definitely would have wanted to know Katie's every thought," Rathbun tells RadarOnline.com exclusively.
According to church literature, "Auditing is a central practice in Scientology through which a practitioner is cleared of negative influences known as engrams in order to heighten spiritual awareness and access currently untapped potential. Auditing sessions involve two people: the person being audited and an auditor. The person being audited is generally referred to as a pre-Clear in public Scientology literature, although Clears continue to participate in a similar process. The auditor monitors a device known as an electro-psychometer, or E-meter. The pre-Clear holds a metal cylinder in each hand, both of which are attached by wires to the E-meter."