Exclusive
Katie Holmes Determined Not To End Up Like Nicole Kidman!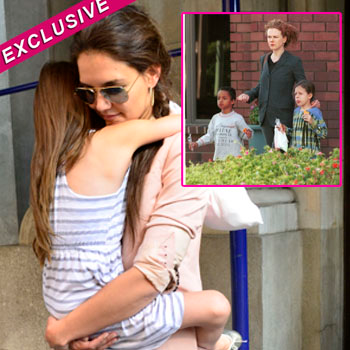 By Jen Heger - RadarOnline.com Assistant Managing Editor
Katie Holmes is determined not to end up like Nicole Kidman, who didn't raise her two adopted children, Bella and Connor, with Tom Cruise, and this is one reason she filed for sole custody of the couple's 6-year-old daughter, Suri, RadarOnline.com is exclusively reporting.
Cruise's two children with Kidman, Connor and Bella, "lived with their father and Katie during the marriage full-time. They aren't that close to Nicole, and Katie is determined that she won't be cut out of Suri's life," a source close to the situation tells us.
Article continues below advertisement
"Bella and Connor are devoted to their father and Scientology, and Katie saw this firsthand, and this is one of the reasons she filed for sole custody. Katie will not be relegated to a secondary role in her daughter's life, period, and she is prepared to fight Tom in court. Katie isn't going to back down, and she will do whatever it takes to ensure that she raises Suri herself," the insider added.
Kidman revealed in a 2007 interview that her kids referred to her as Nicole, and not mom, and Holmes said Connor and Bella called her mom. Isabella, 19, is living with her Scientologist boyfriend, Eddie Frencher, in an apartment in downtown Los Angeles and is pursuing a career as an artist. "We are very proud to be Scientologists," she recently told New Idea.
Connor has set his sights on becoming a DJ and was with his father last week on set in Iceland when Holmes filed for divorce.
Article continues below advertisement
Meanwhile, Tom Cruise is heading back to Los Angeles from Iceland and will celebrate his 50th birthday at his Beverly Hills mansion. It's anticipated that he will file for divorce from Holmes in Los Angeles and is gearing up for a custody battle with Holmes.
As we previously reported, Holmes' family has been getting information for years on "the iron grip" that Scientology has on Cruise's personal and business life, ex-high ranking Scientologist Marty Rathbun told RadarOnline.com in an exclusive interview. "I did audit sessions with Tom Cruise from 2001-2004 and I can tell you that I have a friend who has been providing Katie Holmes' family information for years with information about the iron grip the Church of Scientology has on Tom Cruise's family and professional life. This has been going on for at least four years," he said.