EXCLUSIVE: Katie Holmes Studied Scientology In 'Slave Labor' Bus Church Built For Hubby Tom Cruise, Secret Emails Reveal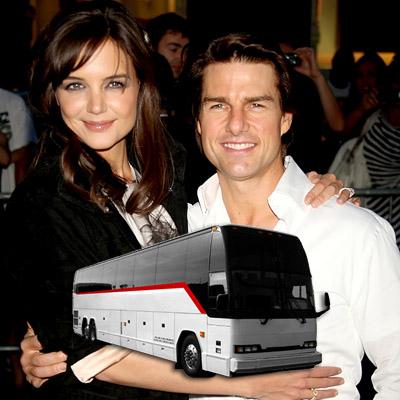 Tom Cruise demanded his custom-built bus -- made for him using Scientology "slave labor" -- be fitted with a drawer for his slippers because the neat-freak Hollywood superstar didn't want anyone walking on the carpet, according to a former high-ranking church staffer.
What's more, Cruise used the luxury vehicle as a base for lover Katie Holmes to begin her 'Purification Rundown Program', a controversial detoxification and introductory program developed by Scientology's founder L. Ron Hubbard, it's been claimed.
Article continues below advertisement
RadarOnline.com first revealed how the Church of Scientology gave Cruise 'Silver Screen' -- a trailer-style bus -- which was reportedly built by their church's underpaid staffers, who put in nearly 9,000 man hours into the production of the vehicle.
The FBI is investigating the church for human trafficking and using free labor -- in part, to service the demands of its celebrity icon Cruise.
In an internal email to Scientology leader Dave Miscavige, purportedly from the Director of Vehicles of the Sea Org branch -- the super-secret organization within the church -- Cruise's requests for upgrades to the bus were outlined, according to the church's former Inspector General Mark Rathbun.
"Mr. Cruise arrived at the Bluebird yesterday on set and said that it was awesome -- the interior upgrades and audio visual," the email reads, describing Cruise's satisfaction at the temporary bus awaiting him while his luxury 'Silver Screen' bus was being made.
"He requested that a space be figured out for placement of slippers in the front of Silver Screen as he does not want any shoes on the carpet. This is figured out; there is a drawer right at the entrance which can be used for this."
Article continues below advertisement
The bus, allegedly given to Cruise around the time he was shooting Mission Impossible 3, was to be a present from Miscavige, who was also the actor's best man during his marriage to Holmes, 32.
"He Cruise also stated that no one will be allowed to enter Silver Screen other than his personal assistants," the email continued, allegedly written on July 27, 2005.
"He really liked the message system and asked if he could have it such that he can send out messages as well - i.e. be able to type a message. This was programmed through the night so that this can be installed and tested today before he gets to the set.
"Mr. Cruise also said that when Silver Screen arrives - he is not going to set foot in it unless COB Chairman of the Board has been in it first."
Despite news of the law enforcement probe, the church has emphatically denied that any of its staff were ever mistreated.
Moreover, the church has denounced whistleblower Rathbun as an anti-Scientologist devoid of credibility.
The disaffected church member says "slave labor force produced Silver Screen".
Article continues below advertisement
Rathbun is releasing more emails that provide an inside look at the Church of Scientology and its connections to Cruise, who biographer Andrew Morton said was church's "second in command in all but name."
According to one email, Cruise took a break from filming to visit a local Scientology base and expressed his joy at having his then-fiancée Holmes participate in her introductory to the religion.
"When he arrived at the base this morning at 6:10am he expressed how great it was to be here. That he went Clear and did his OT levels here," the email read.
"And how awesome it was to have Kate here doing her Student Hat, starting her Purif -- beginning her Bridge here. He was very pumped about this."
To go along with Cruise's first-class ground transportation, the Top Gun star also had first-class accommodations by air.
"He will be leaving the base to go to the set in Fontana by helicopter at 7:15pm tonight," the email said.
As RadarOnline.com previously reported, the 'Silver Screen' wasn't the only time Cruise reportedly received the benefits of the church's low-paid laborers.
Article continues below advertisement
John Brosseau, another former Church of Scientology member, has claimed he was put to work by Miscavige to customize Cruise's SUV, two motorcycles and a building.
In response to the claims, Scientology spokesman Tommy Davis said the church "has never been advised of any government investigation."
"Whatever small economic benefit Mr. Cruise may have received from the assistance of church staff pales in comparison to the benefits the church has received from Mr. Cruise's many years of volunteer efforts for the church," Davis told The New Yorker.