EXCLUSIVE: Secret Emails Reveal Scientology Leader Ordered 'Slave Labor' Build A Bus For Tom Cruise, Says Former Member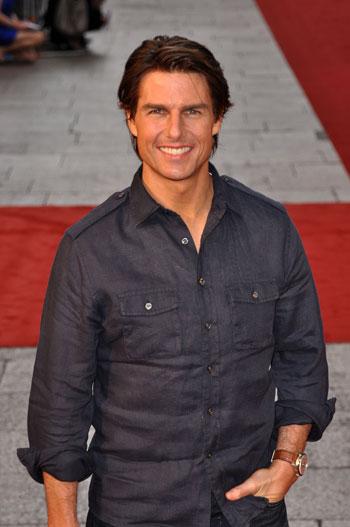 Hollywood superstar Tom Cruise had a custom-built luxury bus made for him using Scientology "slave labor," according to the church's former Inspector General, Mark Rathbun, who also claims to have top-secret internal e-mails proving so.
According to one email Rathbun says was written by Yvonne Gonzalves, the Director of Vehicles of the Sea Org branch, the super-secret organization within the Church which was responsible for building the trailer-style bus, staffers put in nearly 9,000 man hours into production of the vehicle.
Article continues below advertisement
Two shifts worked steadily for a total of 17 hour each day, she wrote in the email.
The bus was to be a present to Cruise from his close friend, Scientology's mysterious leader David Miscavige, complete with a custom designed logo beaming with the title 'Silver Screen.'
The Top Gun star even had another custom tricked bus, called the 'Bluebird', while he waited upon completion of the "slave labor force produced Silver Screen", according to Rathbun.
"Silver Screen is a custom coach requiring 2X the hours and incurs overtime," Rathbun claims Gonzalves' email, dated July 13, 2005, reads.
"The bus is more custom than anything they have ever done."
Sea Org members are employed by the church and receive a weekly allowance, which some disaffected members have said can be as low as $50 per week.
The FBI is reportedly investigating alleged human trafficking at the church and have interviewed several high-ranking Sea Org defectors, over the past two years, about what they claim are abusive and coercive practices within the church.
Article continues below advertisement
The church has emphatically denied that any of its staff were ever mistreated.
In the email released by Rathbun, who the church insists is an anti-Scientologist devoid of credibility, Gonzalves wrote that she had made "the owner and head of production very aware of who they are making the coach for" after production of the Silver Screen fell worryingly behind schedule.
In an effort to speed up the process, Gonzalves even suggested having "Tommy D head of LA's Scientology Celebrity Center call and tell them that Mr. Cruise is expecting the coach on site when he starts to shoot on July 27th and that they had better deliver."
Cruise was shooting Mission Impossible 3 and War of the Worlds around that time.
The emails provide an inside look at the Church of Scientology and its connections to Hollywood celebrities, none bigger than Cruise, who is considered one of the organization's highest-profile public figures and an effective evangelists.
He infamously received the organization's "Freedom Medal of Valor" at a ceremony in 2005, before saluting a photo of church founder L. Ron Hubbard.
Article continues below advertisement
As RadarOnline.com previously reported, the 'Silver Screen' wasn't the only time Cruise reportedly received the benefits of the church's low-paid laborers.
John Brosseau, another former Church of Scientology member, has claimed he was put to work by Miscavige to customize Cruise's SUV, two motorcycles and a building.
In response to the claims, Scientology spokesman Tommy Davis said the church "has never been advised of any government investigation."