Tom Cruise And Katie Holmes Battle Over Suri Will Turn Nasty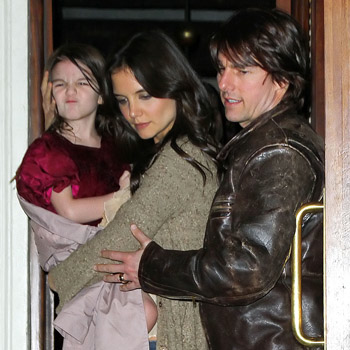 Article continues below advertisement
"Tom has been working nonstop and he shows no sign of slowing down," revealed a Hollywood producer. "And when Tom works, he takes months to prepare and pulls long hours."
To prep for Rock Of Ages, he spent five months rehearsing, doing voice and dance training for 10 hours a day - and the time apart took its toll on his little girl, who was spotted crying hysterically in June.
"The crying is indicative of what's going on," an insider told Life & Style. "I can't say whether Tom is there emotionally, but physically he's been absent. Suri's been crying a lot because of it."
As RadarOnline.com previously reported, Katie has not been happy with the Mission Impossible star raising Suri as a strict Scientologist.
"Her child is now of school age and is embarking on the Scientology indoctrination process," Scientology and cult expert Rick Ross told L&S, explaining that it is going to deeply affect her world view and understanding.
"Since Katie will likely want out of the religion through her divorce, Scientologists would look at her as a negative person Suri shouldn't associate with."
Article continues below advertisement
As RadarOnline.com previously reported, Holmes filed for divorce in New York, and is seeking sole legal custody and primary physical custody of Suri.
"Katie probably saw the bad direction Tom's other children went in," revealed an insider. "Isabella's living in L.A.'s Skid Row neighborhood, and Connor is a party boy who spends his time deejaying and going out. And he went on a bizarre anti-gay Twitter rant last year."
The former Dawson's Creek star will no doubt be grateful to be out of the tight grip of the religion and be done with punishing detoxes. "From film sets, Tom would order Katie to undergo Scientology audits and cleansing, and he'd ask for her to E-meter ratings, all that stuff," said a friend. "He still tried to keep control from miles way."
Currently spending a lot of time in New York City where the couple own a house in Greenwich Village, Holmes has "been very relaxed," said a source. "She has been out doing normal things. Nothing seems to be bothering her. The single NYC life is suiting her."