Tom Cruise Continues Filming In Iceland While Katie And Suri Go Underground In NYC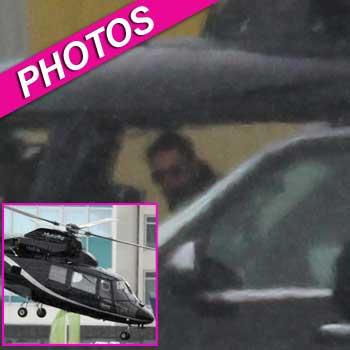 Tom Cruise was blindsided by Katie Holmes ' divorce filing last week but he still has a job to do and was seen on location in Iceland Sunday while his soon-to-be ex seems to have gone underground.
The actor is filming sci-fi movie Oblivion in Reykjavik and his kids Isabella and Connor are there to support their dad.
The Hollywood star was seen onboard a helicopter in the Nordic European country with dark shades covering his eyes.
Article continues below advertisement
Meanwhile, Katie, who is normally seen out in New York City most days, has been noticeably absent from the streets of Manhattan since dropping the "D" bomb on Tom.
As RadarOnline.com previously reported, questions have been raised on whether Katie is being followed by Scientology or Tom's camp because a black Mercedes SUV and a white Escalade appear to have the 33-year-old under surveillance.
Legal experts have asserted that Katie will not be able to use Scientology per se as her reason to get sole legal custody of their six-year-old daughter Suri but she can bring up any practices Tom has that she believes are not in the best interest of the little girl.