Who Gets The House? Inside The Many Homes Of Tom Cruise And Katie Holmes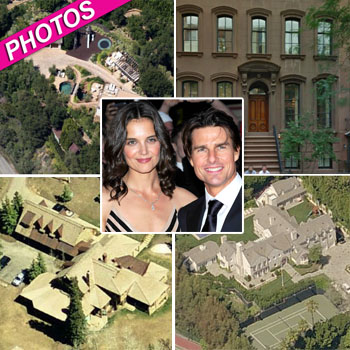 By Debbie Emery - RadarOnline.com Reporter
Along with fighting over the custody of daughter Suri, Tom Cruise and Katie Holmes' have a fleet of houses around the world to divide up now that they are heading to the divorce court, and RadarOnline.com has details on their vast real estate fortune.
First and foremost in Tomkat's residential collection is the opulent Beverly Hills estate on Calle Vista Drive, which they bought for $30,500,000 in April 2007 just six months after their luxurious wedding in Italy, reported .
Article continues below advertisement
Spanning 10,286 square feet with seven bedrooms and nine bathrooms, the traditional style house was originally built in 1937 and sits on 1.3 acres behind majestic gates and a lengthy driveway that opens up to a tennis court and pool.
The Rock Of Ages star also owns a smaller house in Los Angeles on Torreyson Drive that he bought in 2005 before his third marriage. Costing $9.85 million, it sits above the Hollywood Hills and has three bedrooms and four bathrooms, and was the location of Suri's lavish first birthday party. That house has since reportedly been used by Church of Scientology officials for functions.
Often in the Big Apple for work or simply clothes shopping with Suri, the couple kept a residence in New York City's Greenwich Village that was purchased in April 2009 for $15,075,000. While it is small in comparison to their other palatial homes, the 8,113 square feet brownstone is large by Manhattan standards.
No real estate portfolio would be complete without a cabin in the mountains, and when they wanted to play at being snow bunnies the Cruise family retreated to a sprawling nine bedroom mansion in Telluride, Colorado, that Tom has owned since before he wed Wife # 2, Nicole Kidman.
Article continues below advertisement
As previously reported, Hollywood's top couple have been married since November 2006 and her attorney announced the news of their split on Friday. "This is a personal and private matter for Katie and her family," Katie's attorney Jonathan Wolfe said. "Katie's primary concern remains, as it always has been, her daughter's best interest."
Meanwhile, Tom's rep released a statement: "Kate has filed for divorce and Tom is deeply saddened and is concentrating on his three children. Please allow them their privacy."