How Katie Holmes Escaped From Tom Cruise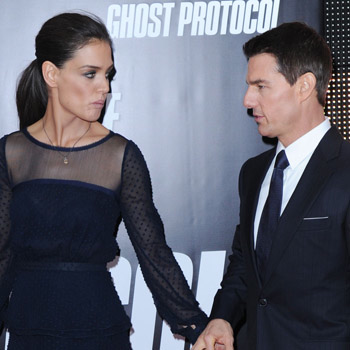 Katie Holmes orchestrated her escape from Tom Cruise and Scientology with surgical precision, and RadarOnline.com has all the details on the bold move that has dropped Hollywood's collective jaw.
"Frankly Katie escaped," a source told Us magazine, who reported the Dawson's Creek star put her name on a New York apartment in mid-June with the split in mind. "She felt she had to get out to save her daughter."
Article continues below advertisement
Katie's slow-moving severance from all things TomKat was likely brewing much sooner, as she had stopped going to three-times-a-week Scientology classes more than 18 months ago; distanced herself from Cruise's sister Lee Anne DeVette; and RadarOnline.com confirmed she fired her team of (mostly-Scientologist) employees -- "so she wouldn't be spied on," a source told the magazine -- in recent weeks.
One sticking point of the doomed marriage, Us reported, was that Katie didn't get along with Tom's daughter Isabella; and believed thought Tom should make his 17-year-old son Connor "focus on school, and not allow him to pursue a DJ career."
Another source told RadarOnline.com parenting differences regarding Suri fueled Katie's motives to break loose from the star of Top Gun.
"Katie and Tom also have very different parenting views," the source said. "Katie wants Suri to go to school with other children and have a grounded routine whereas Tom doesn't, he wants her schooled in the same manner as Connor and Isabella were. Tom is nowhere near as strict as Katie is and doesn't believe in disciplining Suri, whereas Katie believes that is important.
Article continues below advertisement
"Tom basically treats Suri as a little adult, however Katie treats her like a 6-year-old child, and that causes some major clashes over parenting style."
Holmes filed for divorce last Thursday in New York, citing "irreconcilable differences." She's seeking sole custody of Suri.
Cruise -- who's currently shooting a movie in Iceland -- has yet to file a response.
RELATED STORIES:
Eating Their Words: What Tom Cruise & Katie Holmes Said About Their Marriage