Katie Holmes Smiles, Gets Ice Cream With Suri While Tom Cruise Turns 50 Without Them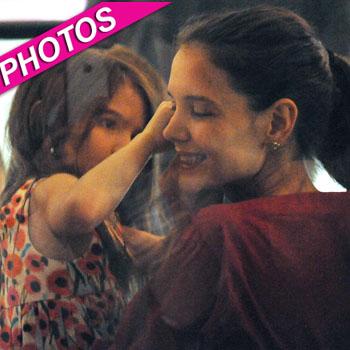 Even while she's gearing up for the fight of her life with her divorce and custody battle against Tom Cruise, Katie Holmes is looking like the weight of the world has just come off her shoulders.
Tuesday night, Katie got an early start on her personal Independence Day celebrations by taking Suri out for ice cream, and letting everyone see her smiling and looking relaxed.
Tuesday was also Cruise's 50th birthday, a day he'd reportedly thought they'd all be spending together in Iceland where he's shooting his latest movie.
Article continues below advertisement
Instead, Katie was in a Manhattan ice cream shop ordering cones for herself and her six-year-old daughter.
Dressed in red and white, with her long hair pulled back into a casual ponytail, Katie was color-coordinated with Suri who looked adorable in a floral dress and red shoes.
As RadarOnline.com has been reporting, Katie filed for divorce in New York, and is seeking sole legal and primary physical custody of Suri. Cruise is expected to petition the New York court that the case should be heard in California and simultaneously file in the Golden State.