Katie Holmes Wasting Away! Divorce Stress Makes Weight Plummet To Estimated '100 Pounds'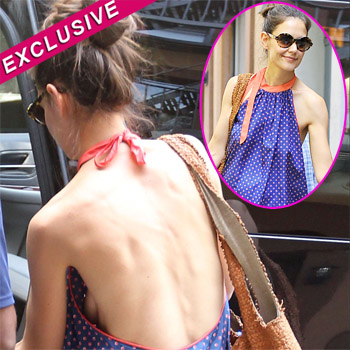 By Debbie Emery - Radar Reporter
With her marriage meltdown in the forefront of the public eye and the strong arm of the Church of Scientology looming over her, it's no surprise that Katie Holmes is under intense pressure and the stress is clearly taking its toll on her weight.
When the 33-year-old single mom stepped out in New York City on Thursday, the sharp bones jutting from her vertebra and ribcage as she struggled to carry daughter Suri were a startling sight for everyone around her, and RadarOnline.com can exclusively reveal that Tom Cruise's soon-to-be-ex wife could be on the brink of a health crisis.
Article continues below advertisement
"She is very thin. Stress so easily dampens the appetite and the hormones caused by it intentionally block hunger signals," nutritional expert Majid Ali, who has not treated the star, told RadarOnline.com in an exclusive interview.
"Prolonged stress and poor appetite leads the body to eat its own muscle and fat," he warned. "Her best bet would be to try and get small bites of food in throughout the day or smoothies or protein shakes if easier and faster."
At 5'9", Ali estimates Katie's weight to be around 100 pounds, which is "way too low for her height," he told Radar. Even taking into account the Dawson's Creek star's slight frame, her recommended weight range is 129 to 142 pounds.
As she is not wasting away quite yet, there is still the chance for Katie to take control of her health and bounce back to her former fitness, explained CEO of NutriFit and Body After Baby author Jackie Keller.
Article continues below advertisement
"One of the best natural cures for stress is the addition of complex carbohydrates that help produce serotonin in the brain," the nutritional expert, who has not treated Katie, exclusively told Radar.
"Serotonin is a calming neurotransmitter and can help reduce levels of cortisol, the stress hormone. Hopefully Katie will nourish both her body and her nerves with regular servings of these favorable foods, like whole grains and legumes."