Tom Cruise Wouldn't Let Katie Holmes Do Dawson's Creek Film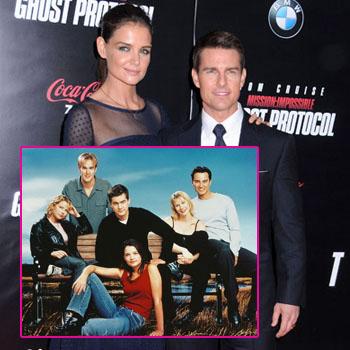 As more details leak about the complex relationship between Katie Holmes and Tom Cruise, a new report says Tom would not let Katie participate in a reunion film for Dawson's Creek, the show that put her on the map.
While Katie established herself for six years playing Joey Potter on the late 90s hit, Tom said revisiting the project would be a step backwards, career-wise.
A source told US magazine producers "were begging her to sign on for a reunion movie, but Tom said absolutely no way and thought going backward would be bad."
Article continues below advertisement
Holmes "didn't care how 'low-brow' he thinks Dawson's Creek is, as she wanted to do the movie and reconnect with her fans. And have fun -- something she rarely does anymore," the source said.
Katie told Good Morning America in November 2011 she thought a Dawson's Creek revival "would be fun.
"I had so much fun working on that show," she said, "and I loved everyone so much and I think about it with such fond memories."