Exclusive
President Of Scientology's Son Dies After Having A High Fever, Mother Says 'I'm Not Allowed To See My Own Son's Body'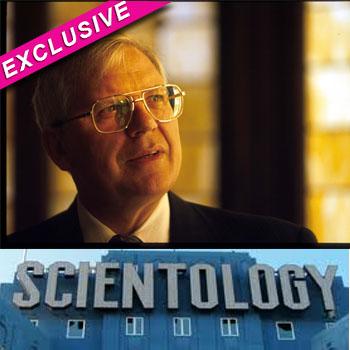 Article continues below advertisement
Karen de la Carriere -- who was formerly married to Alexander's father Heber -- told RadarOnline.com in an extremely emotional telephone interview, "My daughter-in-law, Alexander's wife, isn't allowing me to view my own son's body. My son's wife, and her parents are Scientologists, and I sent a friend of mine over to their house today with a letter for his wife. Alexander's mother-in-law answered the door and told my friend, 'all communication goes through the Office of Special Affairs. There will be no viewing or any funeral services that any of you would be invited to. Get off my property now, or else I'm going to call the police.' My son had a history of fevers; he would get them at least twice a year. Alexander was never properly diagnosed, and he didn't have health insurance through the Church. When he got sick, he was ordered to go to Los Angeles County Hospital and be treated there. I can't believe my beloved son is dead. I called the coroner's office and was told that Alexander's wife was the next of kin, therefor, I wouldn't be allowed to see him. I was told from various friends that he had died of a high fever."
The grief stricken mother went on to say, "I was informed by friends that my own son had died who have connections with the church that found out. My son's wife, nor his in-laws, nor did anyone from the church didn't call me. I'm just at a loss for words. I can't believe my precious beloved son is dead. I love him so much."
According to Karen, her son was a Sea Org member of the church for more than ten years, and two years ago when she decided to leave the church, Alexander was forced to sever all communication with her.
Article continues below advertisement
"I finally left the church in 2010. One of the reasons I stayed for as long as I did was because I knew that once I decided to leave, I would lose my son, and I was right, I did. After I formally left, he called me, and told me to never call, text, email, or attempt to communicate with him in any way until I got approval from the Office of Special Affairs. He told me he had to disconnect from me. Alexander sounded very odd when he said this to me, and I know that other people were listening to our phone call because I could hear noise in the background. Sadly, that was the last time I ever talked to him. I was hopeful that over time, I would be able to win my son back, and that he would allow me into his life," de la Carreire said.
Article continues below advertisement
Karen has been very vocal recently in her support for Katie Holmes decision to divorce Tom Cruise and to file for sole custody of daughter Suri, but didn't think that had anything to do with Alexander's death. "How could it have? Alexander didn't read newspapers, or read the Internet, so no, I don't think what I have said about Katie Holmes had anything to do with his death. I want to know what happened to my son, and why he is dead at 27 years old. I'm hopeful that the coroner will be able to provide information about that," Karen said.